Teen Credits Apple Watch With Saving Her Life [Video]
Posted May 1, 2018 at 4:39pm by iClarified · 26578 views
A Tampa Bay teenager is crediting the Apple Watch for potentially saving her life, reports ABC News.
Deanna Recktenwald was at The Crossing Church in Brandon when her watch alerted her to an abnormally high heart rate and advised she seek immediate medical attention
"I didn't know what was going on at all and it was just out of the blue," said Deanna Recktenwald.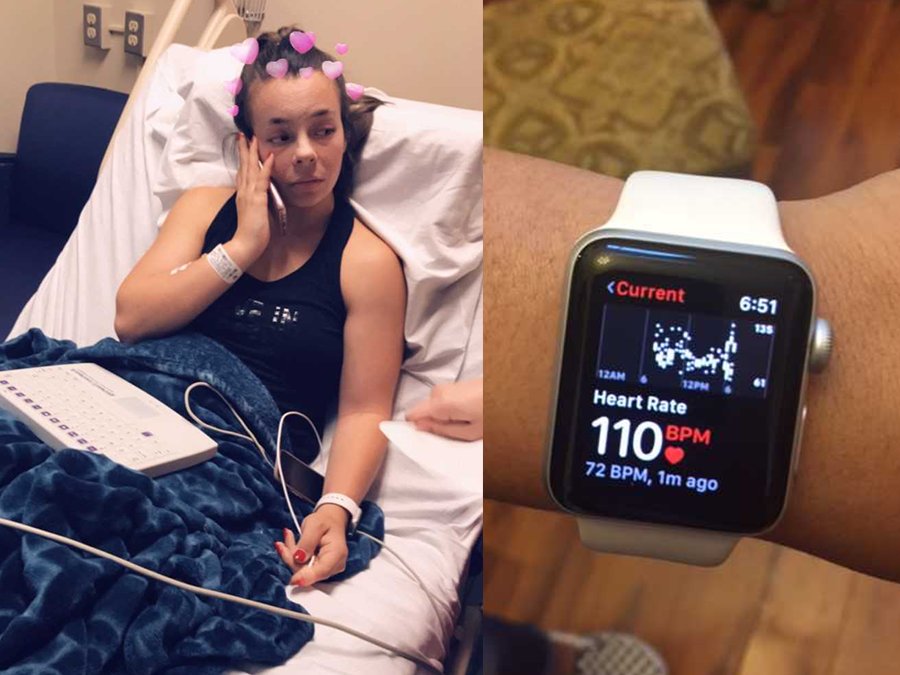 Stacey Recktenwald, Deanna's mother, recounted the incident in an email to Apple CEO Tim Cook.
-----
Good morning,
Last Sunday started out as a normal day. Our family was heading to church and while we were waiting for church to start my 18 year old daughter came to me and was alarmed that her Apple Watch alerted her to "seek immediate medical attention" because her heart rate was 160. I am a Registered nurse and at first wasn't worried. I took her pulse myself and it was exactly what the watch was reading. I thought it was just a fluke that her heart rate was up. She is a healthy athletic young lady with no previous medical conditions. Over the next few hours the watch kept alarming her and at one point her heart rate was 190. The only symptoms she felt was just a headache and a bit short of breath, I took her over to the urgent care to make sure she was okay. When she got there her blood pressure was 150j99 and her heart rate was 130. They sent us right over to the emergency room. When we got to the emergency room they did the typical vital signs and blood work and her blood pressure were still high.
After about an hour the blood work came back and the doctors reviewed the results and told us that Deanna was in Kidney Failure. Her kidneys were only functioning at 20%, She had no symptoms of any kidney issues or any other medical issues. If it wasn't for her Apple watch alarming her about her HR we wouldn't have discovered her kidney issue. I honestly feel that your Apple Natch has saved my daughter's life. She is heading off for college in August and her condition may have been overlooked and if it wasn't caught now the doctor said she would have needed a kidney transplant. I am forever grateful to Apple for developing such an amazing lifesaving product. Now I can send her off to college and know that she can monitor her HR and seek attention if it alarms her again.
Thank you!
Stacey Recktenwald
-----
Cook responded to Stacey's email saying:
-----
Stacey,
I'm happy to hear your daughter is fine now.
Thanks for sharing her story. This inspires us to keep pushing.
Best,
Tim
-----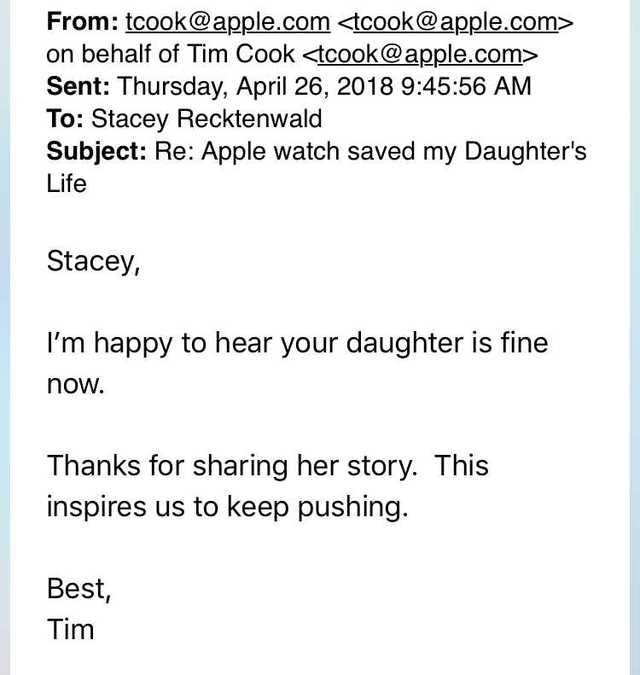 He also tweeted out a link to ABC's story saying, "Stories like Deanna's inspire us to dream bigger and push harder every day."
Take a look at the video below for more details...
Read More
[Safari]