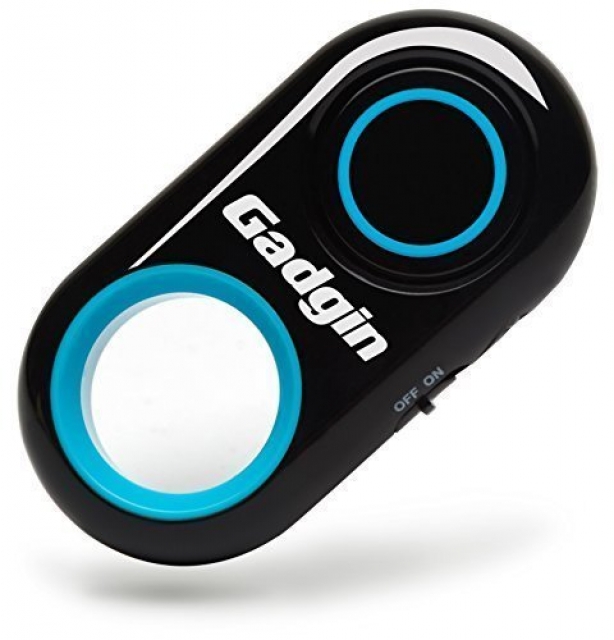 Description:
The Gadgin Bluetooth remote allows mobile photographers to capture shots while up to 30 feet from their device. Compatible with iOS and Android, the remote can be used with a huge range of devices For the majority of devices there is no app download necessary, the remote will automatically pair with your device via Bluetooth. For Sony Xperia S, HTC One and X+ users, simply download the "Camera 360" app in the Google Play Store to use the remote.
Features:
● BEST VERSION ON THE MARKET: An entirely updated and improved version of classic Bluetooth remote camera shutters - this little gem is the future of convenience in capturing photos and videos! With a weight of just 8 grams it really feels like a feather!
● LONG BATTERY LIFE: Needs no charging, and works for up to 1 Year (3 times a day), so your remote shutter works whenever you want!
● UNIVERSAL COMPATIBILITY: Now you can finally sync your phone/tablet and use it from a distance without any hassle using Gadgin's cutting edge Bluetooth 3.0 technology! Works with most Android (4.2.2 OS or later) and iOS (6.0 or later) devices, giving you versatile options with your smartphone, tablet, iPad or iPod. Doesn't support Windows Phones and is NOT compatible with SNAPCHAT video mode!
● SMALL AND LIGHTWEIGHT: Just 2" long and weighs 1 oz., so you can add to your keychain, or fit in your pocket or purse for convenient access.
● INCREDIBLY PRACTICAL: Gadgin is characterized not only by high quality, but by exceptional compactness and durability. It connects with your device fast and guarantees maximum convenience and fun!
● LONG COMMUNICATION RANGE: Works to distances up to 30 feet (10m), allowing you to be in group pictures and long distance shots and to easily use a tripod.
● PERFECT PHOTOS & VIDEOS: When you use Gadgin, you eliminate even the slightest shake that could possibly ruin your entire photo or video - capturing clear shots is better than capturing blurred ones!
● 1 YEAR "NO-HASSLE" REPLACEMENT ($29.95 Value)
Manufacturer:
Gadgin
Brand:
Gadgin
Model:
Gadgin Remote Shutter Control 6
Color:
Blue
Price:
$

17.95
$18.97