Apple Updates XServe With Nehalem Xeon Processor
Posted April 7, 2009 at 9:44am by iClarified · 8622 views
Apple today announced an updated Xserve that delivers up to twice the performance of the previous system. Using Intel "Nehalem" Xeon processors and a next generation system architecture, the 1U rack-optimized Xserve delivers up to an 89 percent improvement in performance per watt.** Xserve is available with up to two 2.93 GHz Intel Xeon processors and industry-leading storage options that include a low-power solid state drive (SSD) and up to 3TB of internal storage. Starting at $2,999, Xserve includes an unlimited client license for Mac OS X Server version 10.5 Leopard.
"The Xserve is the best workgroup server for our education, business and creative customers," said David Moody, Apple's vice president of Worldwide Mac Product Marketing. "With up to twice the performance, better power efficiency and an innovative SSD drive option, this is the best Xserve we've ever made."
The new Xserve includes Intel Xeon processors running at speeds up to 2.93 GHz, each with an integrated memory controller with three channels of 1066 MHz DDR3 ECC memory that delivers up to 2.4 times the memory bandwidth while cutting memory latency up to 40 percent.*** Using high-efficiency power supplies and intelligent thermal management, Xserve delivers a 19 percent reduction in idle power use.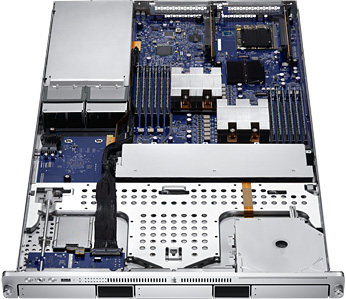 Xserve's industry-leading storage capabilities include a 128GB SSD boot-drive option that requires a fraction of the power of a hard disk and delivers up to 48 times faster random access times without occupying a drive bay. Xserve's three 3.5 inch drive bays support both 7200 rpm SATA and 15,000 rpm SAS drives and can be configured with up to 3TB of internal storage. Two PCI Express 2.0 x16 expansion slots provide massive I/O bandwidth to support the latest high-bandwidth expansion cards. The Xserve RAID card option now delivers improved performance up to 497MB/s**** and supports RAID levels 0, 1 and 5 with 512MB of cache without using a valuable PCI Express expansion slot. A 72-hour backup battery is included for enhanced data protection.
Every Xserve ships with an unlimited client edition of Leopard Server, offering support for Mac®, Linux and Windows clients without the added cost of client-access licenses. Leopard Server extends Apple's legendary ease of use with Server Assistant and Server Preferences, which allow even nontechnical users to quickly manage users and groups on the server and easily set up key services. Leopard Server includes Podcast Producer, the ideal way to automatically publish podcasts to iTunes® or the web; Wiki Server, allowing people to collaboratively create and modify their shared websites with just a few clicks; and iCal® Server, the world's first commercial CalDAV standard-based calendar server. Leopard Server is fully UNIX compliant and LDAP and Active Directory support allows Xserve to fit right in to existing IT environments.
The new Xserve joins Apple's latest hardware products in setting new standards for environmentally friendly design. Xserve uses PVC-free internal cables and components, contains no brominated flame retardants and features a power supply with an average energy efficiency of 89 percent.
Pricing & Availability
The new Xserve is immediately available through the Apple Store® (
www.apple.com
) and Apple Authorized Resellers.
The Xserve standard configuration, with a suggested retail price of $2,999 (US), includes:
* a single 2.26 GHz Quad-Core Xeon 5500 series processor with 8MB of fully shared L3 cache;
* 3GB of 1066 MHz DDR3 ECC RAM;
* a single 160GB 7200 rpm SATA Apple Drive Module;
* dual Gigabit Ethernet on-board;
* two PCI Express 2.0 x16 expansion slots;
* Bonjour®-enabled Lights-Out Management processor and Server Monitor Software;
* internal graphics with Mini DisplayPort output;
* two FireWire® 800 and three USB 2.0 ports; and
* an unlimited client license for Mac OS X Server version 10.5 Leopard.
Build-to-order options and accessories for Xserve include: dual 2.26 GHz, 2.66 GHz or 2.93 GHz Intel Xeon processors; 160GB and 1TB 7200 rpm SATA Apple Drive Modules; 450GB 15,000 rpm SAS drives (third party option); internal Xserve RAID card; Gigabit Ethernet, 4Gb Fibre Channel cards and a 750W redundant power supply.