Google today unveiled Android L, its upcoming mobile operating system that brings more than 5,000 new APIs and a new design approach called 'Material Design'.

In material design, surface and shadow establish a physical structure to explain what can be touched and what can move. Content is front and center, using principles of modern print design. Motion is meaningful, clarifying relationships and teaching with delightful details.

Check out the video for more details...






The company also announced improvements to Android and Chrome that make it easier to move between devices.

Android Wear and Android Auto
Android Wear extends Android and its ecosystem of apps to your wrist. You get the information you need, quickly at a glance—just like you're used to doing with your watch. Just say "Ok Google" to ask questions or to get stuff done. Get alerted when it's time to leave for dinner. Call a cab to take you there. See the traffic on the way. Text a friend once you're seated. It's all right there, on your wrist, easy to see, right when you want it. Google announced that two Android wearables, the LG G Watch and Samsung Gear Live, are available to order today on Google Play, and the Moto 360 from Motorola will be available in the coming months.

Android Auto was showed to developers today. Just connect your Android phone to a car with Android Auto, and you'll have what you need at your fingertips such as turn-by-turn navigation from Google Maps, your curated playlists and radio stations through Play Music, simple-to-use voice search, and reminders from Google Now. This is accessible through your car's controls, and more importantly, is far safer than fumbling around with your phone. You'll start to see Android Auto in cars later this year.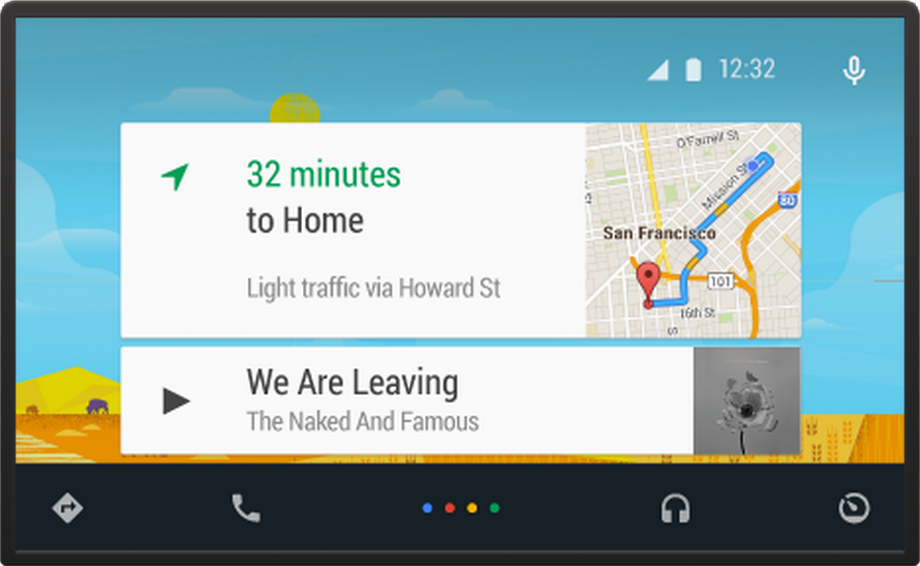 Chromecast and Android TV
The Chromecast dongle is getting an update to make it even more powerful, and convenient to use, with new features like the ability to allow others to cast to your TV without needing to be on the same WiFi network, a customizable homescreen with personal photos or beautiful art, and casting exactly what is on your Android phone or tablet screen directly to the TV.

In addition to Chromecast, Android TV was announced today. Android TV brings Android apps and games to your living room. It's baked directly into your TV-watching experience, through a set-top box or as part of your TV. You can use voice search to find a live TV show, a good flick from Google Play, or a music video on YouTube. You can also play Android games reimagined for TV and gamepads are supported. Android TV, like Chromecast, supports Google Cast technology. It will ship with products from various consumer electronics companies later this year.



Android One
Google is working with partners on a comprehensive solution—which includes hardware reference platforms—to address the mobile computing needs of those in emerging markets. Android One will provide smartphones that are high quality, affordable and come with reasonable data plans. The company's partners will launch an initial range of sub-$100 Android One smartphones starting in India this Fall, with more countries to follow.

Read More