The Fleksy keyboard for iOS has been updated with numerous improvements including new themes, a Hotkey extension, a case-sensitive layout, iCloud sync, and much more.

In celebration of Valentine's Day, Fleksy is giving a way a free theme in addition to the many changes listed below.

"On February 14th (Valentine's Day), we're giving every user a free Valentine's Day theme! We're also introducing the Heartpops Extension – which will let you make every keypress pop with a colorful heart. We encourage you to pass it on, and Share The Love with someone special this Valentine's Day."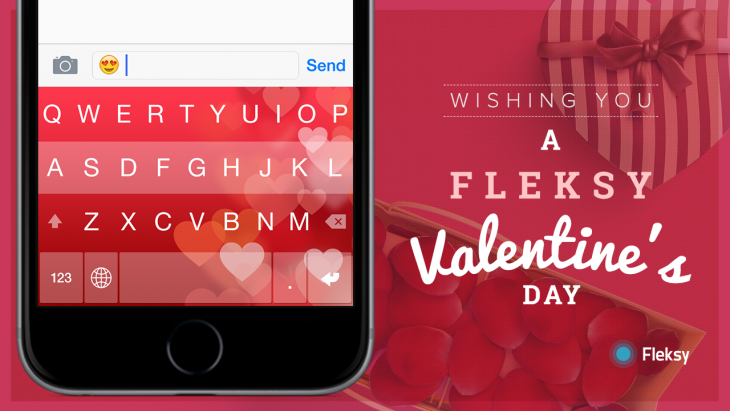 Fleksy is the most fun, customizable way to type, and officially the fastest keyboard in the world. Fleksy is the only keyboard that allows you to find and send GIFs, and customize your keyboard with powerful Extensions and colorful themes.

POWERFUL EXTENSIONS FOR CUSTOM FUNCTIONALITY
Use Fleksy Extensions to customize your keyboard with incredibly powerful features. Have more fun with the ONLY Keyboard with GIF support and great autocorrect. Control your cursor from the spacebar with Cursor Control. Make Fleksy easier to reach on iPhone 6 and iPhone 6 Plus with One-Handed Typing. Or, customize Fleksy with an easy-access Number Row or keys of your choice. Fleksy gives you 3 slots FREE, so you can mix, match, and try all 7!

THE FASTEST, MOST ACCURATE KEYBOARD
Fleksy keyboard uses next-generation autocorrect so accurate you can type without even looking, and type with record-setting speed using intuitive gestures! Type faster and save more time for the things you love.

BEAUTIFUL DESIGN. 30+ COLORFUL THEMES. 3 CUSTOMIZABLE SIZES.
Show your style on Fleksy's beautiful keyboard with over 30 free and purchasable colorful themes. Check out fan favorites like Frozen, Hunger Games, and our new animated themes.

TYPING THAT'S ACTUALLY FUN!
Express yourself with GIFs, over 800 Emoji, 30+ themes, and Rainbow Key Pops. Then, earn fun Badges and rewards for using Fleksy! Who said typing had to be boring?

MORE NATURAL GESTURES
With just a swipe of your finger, easily add punctuation, space, delete words, and much more. Easy. Intuitive. Fast.

WHY ARE WE BETTER THAN OTHER KEYBOARDS?
• The only keyboard with custom Extensions. No keyboard is more customizable.
• The only keyboard that holds a world record for typing speed. No keyboard is faster.
• The best keyboard to find and send GIFs while typing. No keyboard is more fun.
• The most beautiful design, custom themes, and sizes. No keyboard is more beautiful.

MULTILINGUAL TYPING
Seamlessly switch between languages while typing. Fleksy supports over 40 languages.

What's New In This Version:
- The Energy Theme Pack! Breathe more life into your keyboard with these animated themes.
- The Hotkey Extension! Add a row of customizable keys for things you type often like emojis, symbols or email addresses.
- Heart Pops! Make your keys pop with hearts with this lovely Extension.
- Magic Button! Replace the globe with emoji, a comma, or a dismiss keyboard button in settings. Also, long-press the globe button for more options.
- Case-sensitive layout. Enable this feature in Settings.
- iCloud Sync. Now your dictionary words will sync automatically across your devices.
- More keys have been added to landscape orientation on iPhone (portrait for iPad). You can disable this layout in Settings.
- Fixed a bug where the keyboard keys would be misaligned in some apps.
- Many other bug fixes and performance improvements.

You can purchase Fleksy Keyboard from the App Store for $0.99.

Read More