Houdini for Mac Beta Program
Posted April 5, 2008 at 2:05pm by iClarified · 13489 views
Side Effects Software is pleased to announce the Houdini for Mac beta program. With the recent redesign of the Houdini UI, Houdini has become much more artist-friendly, making it a great fit for the Mac. At the same time, Apple's switch to Intel processors provides Houdini artists with a wealth of processing power.
When Houdini for Mac is released, it will sync up with the Windows and Linux versions, allowing customers to move between platforms with ease. Performance on the Mac is proving to be on par with similarly equipped Windows and Linux systems and all versions will share the same feature set.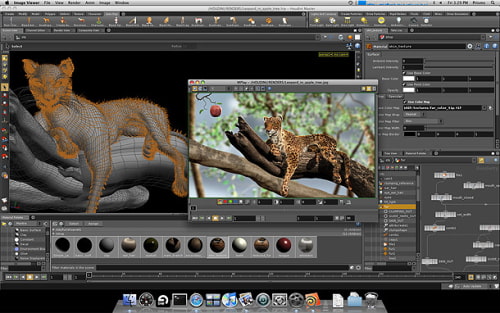 Beta Testers Needed!
Houdini for Mac is being released, initially, as a closed beta and Side Effects is looking for a group of dedicated Mac artists to provide rigorous real-world testing. If you are interested in testing Houdini for Mac, there is a short questionnaire to fill out that will help us better understand you and your Mac. These questions also give us a chance to learn more about how Mac 3D artists work.
Side Effects will be reviewing applications over the next week and then setting up testing groups that encompass a wide range of Mac systems. The testing will be staged and you may be asked to come on board either now or at a later stage. In early summer there will also be a public beta to reach the wider Mac community. Details about the feature set and release dates will be made available when the public beta starts.
Read More