Mailplane 2.0 Beta Is Here
Posted May 9, 2008 at 12:12pm by iClarified · 8059 views
Mailplane 2.0 Beta brings together Gmails superb email features with the friendless of your Mac.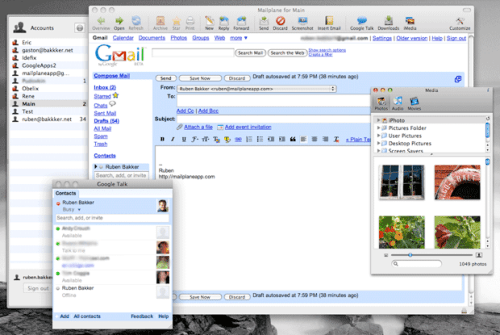 New features in the 2.0 Beta include:
Gmail 2 Support
* Full support for Gmail 2 and new menu items
* Inspect Element menu item
* Gmail 2.0 keyboard shortcuts tip
* mailplane:// URLs
* Hide Spam counter, hide invitation box, highlight row in overview
* Apply/remove label auto completion Updated!
* Navigate to Label
* Auto-BCC for Highrise
* OmniFocus "Clipping" Plugin New!
Compose and Editing
* Attach Folder and file bundles
* Drag and drop of text inside the same window
* Picture Attachment Dialog
* Use "Copy and Paste" to Attach files and pictures
Account and Notifications
* Network Diagnostics
* Improved Authentication
* Nickname
* "Background" account notifications!
* Growl notification show account name
* Account Drawer improvements
* Sound and Color
* Performance improvement
* "Do not disturb" mode
* Changed: Account loading and "View->Reload Page"
* Switch to account keyboard shortcut New!
General Improvements
* Post form (Google spreadsheet or LiveJournal comments)
* Resize multiline text fields
* Download improvements
* Mac OS X Address book integration
* Use System WebKit preference
* Writing Direction menu
* Improved auto update New!
* Improved registration panels New!
* "Close instead of Hide" preference New!
* Safari extensions check New!
* Miscellaneous
Read More