Jumsoft Announces 3 Page Templates for iWork
Posted May 20, 2008 at 7:37pm by iClarified · 7816 views
Jumsoft has announced the release of three high-quality Page Template Packages for iWork. Each of the Page Template Packages has a separate design and style, what allows you to choose it considering what type of business world you belong to. That's why this offering has a wide choice of serious and formal, a little bit extravagant, playful and relaxing or somewhere in the middle templates for your documents. Page Templates Packages is compatible with Page 2.0 and all later versions of it.
Frequency Modulation
The soft brown background of the frequency modulation template has some fashionable and youthful details, including two crooked labels on the top of the page. These details can help you to express your ideas in more informal way. Tastefully selected details will provide cohesiveness to your brochures, envelopes, letterheads, business cards, memos, and invoices. Further, they will make your recipients smile. The frequency modulation template is especially helpful for those who possess a creative outlook on life. However, it is also beneficial for anyone wanting to make their documents appear more modern. With the frequency modulation template, you can create a friendly atmosphere and brighten others' days.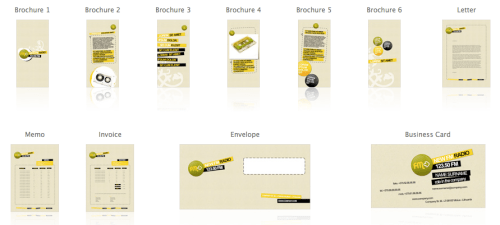 Modern Furniture
This warm and creative general purpose modern furniture template will brighten your messages and create a stylish appearance throughout your documents. This general purpose template provides you with options to change the detailed pictures. Further, the font is acceptable for use in formal documents.
This template contains numerous furniture notes. Therefore, it is specifically recommended for those who are in a business environment related to this area. However, it is also helpful for anyone wanting to make their documents more engaging. The modern furniture template for Pages is easy to use. In addition, it provides you with the necessary tools to create your image and to convey your messages in a stylish manner.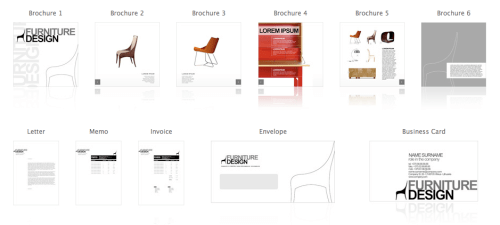 Daintily Alive
When looking at the 3-dimensional pictures in the daintily alive template you will quickly notice that the documents come to life. Do not be afraid of using red, orange, and black colors against a white background. This contrast of colors is designed to draw your readers' attention and to create a friendly atmosphere in your documents. Because this color scheme is always fashionable, you should not be afraid your documents to appear too intense. That is, you should strive to be noticed without excessive intensity. The daintily alive template is especially helpful for anyone who wants to stand out in a crowd while maintaining a serious business image among their partners or rival firms. The wide choice of documents layouts will allow you to vary your designs and avoid repetition. For example, your brochures still keep the same style and detail. The daintily alive template will cause your readers to welcome you documents.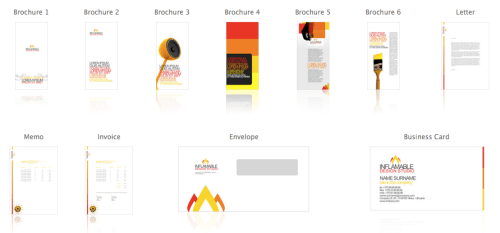 Installation of pages templates is easy to do. You may double-click on any template and Pages will automatically open the document. You may save the document as a new template or standard Pages document. You may also install pages templates so they appear in pages templates menu by copying them to Home > Library > Application Support > iWork > Pages > Templates folder.
Read More