SmileOnMyMac Releases TextExpander 2.2
Posted May 20, 2008 at 10:23pm by iClarified · 3041 views
SmileOnMyMac has released TextExpander 2.2, an update to its customizable typing shortcut tool for Mac OS X. With TextExpander, users can define abbreviations for
frequently-used text strings and images, also known as snippets. When an abbreviation is typed, it expands automatically to the full snippet.
This update adds a predefined snippet group with common CSS (Cascading Style Sheets) code. It limits "Adapt to Case" to lowercase snippets and to abbreviations with two or more characters. A conflict with MacSpeech Dictate has also been resolved.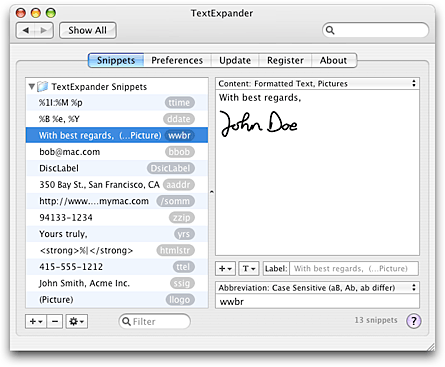 A 30-day fully-functioning demo of TextExpander can be downloaded at http://www.smileonmymac.com/textexpander/download.html. The price is $29.95. A Family Pack license is available for $44.95, which covers up to five computers in one household. Mac OS X 10.4 or higher is required. TextExpander 2.2 is a free update for registered users of TextExpander 1.x and 2.x.
What's new in TextExpander 2.2:
- Adds predefined group for CSS (Cascading Style Sheets)
- Limits "Adapt to Case" to lowercase snippets
- Limits "Adapt to Case" to abbreviations with two or more characters
- Disables expansion when shift-space is typed
- Works properly with MacSpeech Dictate
TextExpander features:
- Insert standard greetings, text, and signatures including formatted text and pictures
- Save keystrokes by typing short abbreviations to get long snippets
- Organize snippets into groups
- Add snippet groups from external files and online sources
- Sync snippets via .Mac
- Insert the current date and time in any format you prefer
- Correct typos automatically
- Print snippets by group
- Type special characters without launching the special characters palette
- Position the cursor wherever you want in your expanded snippet
- For programmers, make editor-independent code templates and invoke AppleScripts
- Import from Textpander, TypeIt4Me (v2 & 3) and Typinator (v1)
- Available in English, German, French, Japanese and Italian
Read More