The Plans for Steve Jobs' Modest New Home
Posted September 28, 2010 at 5:39pm by iClarified · 18399 views
Plans for Steve Jobs' new home, set to be built on the spot currently occupied by the Jackling house, have been posted online by Gizmodo.
In 1984 Steve Jobs purchased the Jackling House and estate, and resided there for a decade. After that, he leased it out for several years until 2000 when he stopped maintaining the house, with the elements degrading it.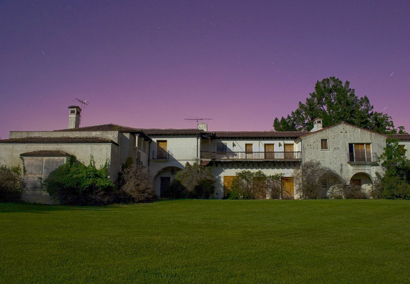 He has since been trying to obtain permission to tear down the house and built a new modern home; however, local preservationists have fought furiously to prevent this saying that Jobs and the town ignored provisions of California law which prohibit cultural landmarks from being destroyed if there are reasonable, feasible ways to preserve them.
On March 8, 2010, Superior Court Judge Marie Weiner upheld the Woodside Town Council's 2009 decision that allows Jobs to tear down his house. If an appeal is not filed before Jobs obtains a demolition permit, then demolition can proceed. The demolition permit process typically takes "the better part of a couple of months", according to Woodside Town Manager Susan George.
On April 29, 2010, the architectural-historical preservationists group Uphold Our Heritage appealed the March court decision. The appeal put an "automatic stay" on the issuance of demolition permits. The group hopes that the house can be relocated and restored. [
W
]
Here is how Gizmodo describes the plans for the new home:
As for Jobs' new home? It couldn't be more different than the Jackling estate. Measuring in at about one third the size (4,910 square feet) of the existing main property, Jobs' future residence is the ne plus ultra of utilitarian modesty—even when you remove the billionaire standards.

If anything, the conceptual plans submitted to the Woodside Town Council depict more of a small, private retreat than any towering glass-and-steel tech chapel or totem of wealth. According to these initial designs, Jobs intends to populate the 6 acres with an assortment of indigenous flora; a simple three-car garage; a modest 5 bedroom home with plenty of windows and decks; a network of lighted stone walkways; and even a private vegetable garden. Everything is neat, tight, pragmatic, and in its place.
"The site plan definitely shows unnatural restraint for a person of wealth," notes Christopher Travis, managing partner of Austin-based Sentient Architecture. "This kind of thing only happens when the client gives the architect specific instructions to be sparse and utilitarian," Travis adds. "The natural tendency is to go 'McMansion.' I would say this plan is a direct result of a specific requirement by Jobs to make it plain and simple…It's almost Zen, with a vaguely oriental simplicity to it."
Read More