Funambol Debuts Wireless Sync for iPhone 2.0
Posted June 11, 2008 at 12:05pm by iClarified · 5826 views
Funambol today announced it has enhanced its native open source wireless sync app for iPhone 2.0. The app uses the new iPhone 2.0 SDK and enables users to wirelessly sync PIM data with a wide variety of consumer and enterprise email systems and clients. The free open source software will be available when iPhone 2.0 ships and the App Store opens, scheduled for July. iPhone users will be able to access the sync software via the free myFUNAMBOL portal. In contrast to MobileMe announced yesterday, myFUNAMBOL provides free syncing of PIM data and mobile email for mass market users. When the new Funambol iPhone open source software ships in July, it will initially sync contacts, followed by a version that also syncs calendars and notes.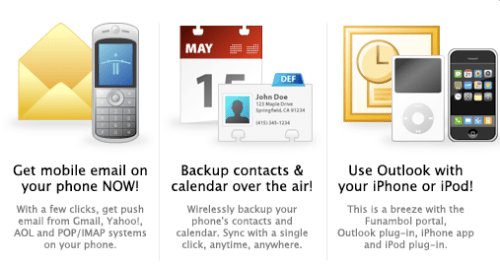 "iPhone 2.0's faster connectivity and new capabilities will appeal to many users. One of the first things they will want is to access their contacts, wherever they are stored," said Fabrizio Capobianco, Funambol CEO. "However, many users do not want to pay or plug-in to access their contacts and calendars, they want them for free via wireless sync. That's why our original iPhone open source app was downloaded more than 100,000 times. Now that our software works with all new iPhones, users can wirelessly access their contacts and soon other PIM data, for free."
Funambol had previously introduced the world's first native open source sync app for original iPhones. The new Funambol iPhone 2.0 sync app takes advantage of the new iPhone 2.0 SDK. It follows the company's recent introduction of its new BlackBerry open source software for push email and wireless PIM sync. In the past several months, Funambol's leading ad-funded open source push email solution for the mass market has significantly expanded its slate of email and PIM sync software for the latest mobile devices and operating environments. New versions provide support for Windows Mobile, Java ME, BlackBerry, iPhone and Android, with more in the offing. Details on the new Funambol iPhone 2.0 wireless sync will be available on the Funambol website in July.
Read More