Palringo Offers First iPhone 'Rich Messaging Service'
Posted July 30, 2008 at 8:32pm by iClarified · 8734 views
Palringo has just released a new application for the iPhone which offer Rich Messaging Services, this means you can send picture messages, text-based messages and, soon, voice messages over the iPhone's data connection. The app looks like a Wonderful alternative to the AIM application.
iClarified contributor Mateen offers his experiences with the new application...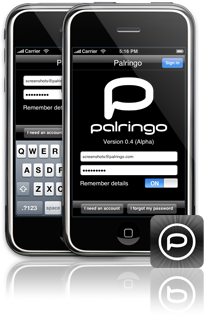 -----
First thing I noticed as I opened the app for the first time, was that I was forced to create a Palringo account. This was one major setback, as I didn't see why it was necessary to create one. Second, You had to do registration through Safari, which is not a big deal, but It would have been a lot easier to do it through the Palringo app itself.
However, Once I setup the application, it worked great. I was able to send photos from my photo library, or I could take one right then and there. This feature worked just as advertised: Great!
The person on the other side (whom I was sending the IM's to) received the picture in a URL. All he had to do was open the URL, and the picture was right there. He also had the option to download it. Very Neat! Unfortunately, I was not able to recieve pictures.
When I recieved an IM, the "P" in the left hand corner, flashed a yellow envelope. You can then tap the envelope and see all the conversations you are currently in, and who sent you the new message!
Sending an IM was flawless, and the reciever recieved it immediately.
Another advantage of Palringo, is that it supports many popular instant messaging services, including AIM, Yahoo!, MSN, Google Talk, and many more!
With Palringo, you can set up "groups" and send picture messaging simultaneously to all of them!
Overall, This app works just as advertised, and delievers a great alternative to the AIM application. However there were many flaws, including:
1. Registration Process- Creating a Palringo Account.
2. No smileys.
3. Can not set custom status messages.
4. App can get slow and sluggish sometimes.
5. Signs Off as soon as you hit home button.
Although there are many flaws, through software updates, Palringo will be a hit!
------
Read More