Apple Announces iTunes 8 [Screenshots]
Posted September 9, 2008 at 2:52pm by iClarified · 11231 views
Apple today announced iTunes 8, the next major release of Apple's ubiquitous music and video player for Macs and PCs which is seamlessly integrated with the most popular online content store in the world (
http://www.itunes.com/
). iTunes 8 includes the new breakthrough Genius feature, which lets you automatically create playlists from songs in your music library that go great together -- with just one click. Genius helps music fans rediscover favorite songs in their existing music library and suggests related music on the iTunes Store they might want to add to their music collection. iTunes 8 features new ways of viewing your music and video libraries, and adds television programs in stunning high definition for sale on the iTunes Store.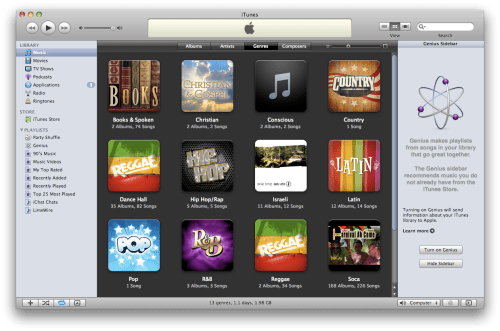 Using Apple's breakthrough Genius feature is easy-select any song, click the Genius button, and iTunes instantly creates a playlist of songs that go great together from your own library. You can preview the playlist Genius creates, refresh the list to choose different songs and save Genius playlists to enjoy again later. You can even create Genius Playlists on-the-go with the new iPod(R) classic, iPod touch, iPod nano and iPhone(TM). The Genius sidebar appears right in iTunes and recommends music from the iTunes Store that you don't already have, based on the songs you select.
When you turn on iTunes 8's new Genius feature, information about your music library is anonymously sent to the iTunes Store, where it is combined with the anonymously-gathered knowledge from millions of other iTunes users and processed through Apple-developed algorithms. The Genius results, specifically tailored to your personal music library, are sent back to your computer to enable users to automatically create Genius playlists in iTunes and on your iPods, even when they are not connected to the Internet.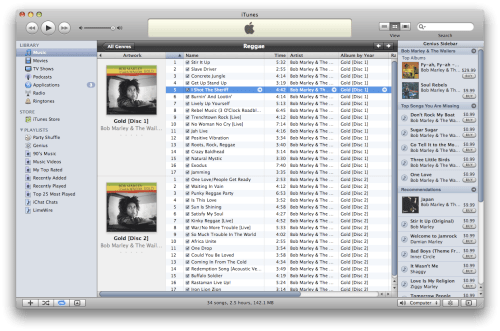 iTunes 8's new visual browsing interface displays your music and video libraries using your album and video covers, and also provides a great way to navigate your movies, TV shows, iPhone apps, podcasts and audiobooks.
The iTunes Store has become the world's most popular online TV store and features an incredible selection of over 30,000 episodes from ABC, CBS, The CW, FOX, NBC and over 70 cable networks including Bravo, Comedy Central, Disney Channel, ESPN, FX, HBO, MTV, Nickelodeon, Sci Fi, Showtime and USA. With iTunes 8, television fans can now watch their favorite programs from ABC, NBC and Showtime in stunning HD for just $2.99 per episode, perfect for viewing on their Mac(R) or PC, or on their widescreen TV with Apple TV.
The iTunes Store is the world's most popular online music, TV and movie store with a catalog of 8.5 million songs, over 30,000 TV episodes and over 2,500 films including 600 in stunning high definition video. With Apple's legendary ease of use, pioneering features such as iTunes Movie Rentals, integrated podcasting support, iMix playlist sharing, the ability to turn previously purchased tracks into complete albums at a reduced price, and seamless integration with iPod and iPhone, the iTunes Store is the best way for Mac and PC users to legally discover, purchase and download music and video online.