Microsoft's 'I'm A PC' Campaign Was Created on Mac
Posted September 20, 2008 at 1:34pm by iClarified · 11052 views
It turns out the Microsoft's 'I'm a PC' campaign was created on Macs running Adobe Create Suite 3, according to an observant Flickr user.
Flickr user LuisDS found that metadata on the photo of PC and other photos appearing on Microsoft's "I'm a PC" website show that they were made using Macs running Adobe CS 3. You would think that Microsoft would use Windows PCs running Microsoft Expression Studio software, which the company says, "takes your creative possibilities to a new level."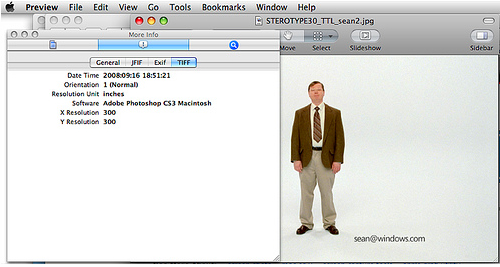 After LuisDS published this information on Flickr, Microsoft spent the night trying to remove these details from their files. This morning the files have been changed resulting in the 272 KB photo ballooning to 852 KB.

Read More