Colors 1.1 for iPhone Now Available
Posted October 22, 2008 at 1:08pm by iClarified · 6484 views
Cliqcliq Colors 1.1 has been released on iTunes today! Colors is an easy to use tool for discovering, converting, and managing colors.
-----
We're incredibly excited about the feature set in this release and can't believe it's been less than 3 weeks since we released version 1.0! We've had some time to reflect on our own use of Colors as well as to absorb the great feedback we got from many of our customers and we think new and existing customers will be equally excited about these updates.
What's new in this version? To start, we're happy announce 3 major new features:
- Integration with the iPhone Camera and Photo Library (on both iPhone and iPod Touch) for automatic palette creation
- Sharing palettes via email
- Multiple palette support (this was a highly requested feature)
We're very excited about all of these features but especially think iPhone Camera and Photo Library integration is a huge step forward in making Colors the best mobile color utility on the market. We use advanced image processing techniques that help you get exactly the color you're looking for. We believe this feature takes cliqcliq Colors from an application aimed mostly at web developers and designers, and opens it up to a much broader set of people interested in creating color palettes for uses such as interior design, color matching, and more.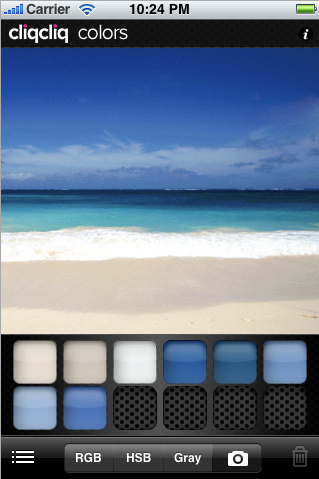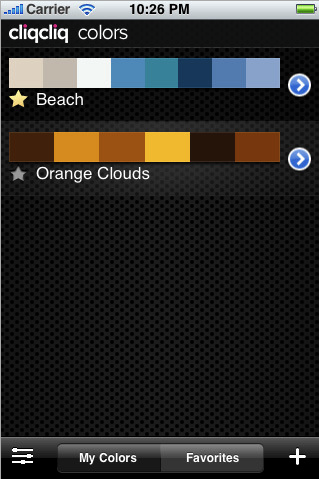 However, as we mentioned, the camera integration is not all we're releasing in this update. We've also added in the ability to email palettes to yourself or friends in the following formats:
- Adobe Photoshop (ACO)
- Adobe Illustrator (ASE)
- Bitmap Image
- Text
We think this makes Colors much more useful for everyone, even people that haven't bought our app yet! With Colors 1.1, whenever you create a palette, it's no longer stuck on your phone. You can easily import it into your favorite design or development applications, or send it to your friends or coworkers.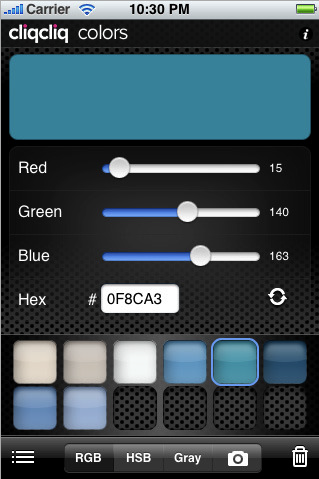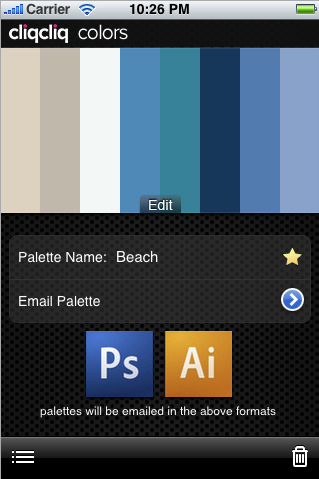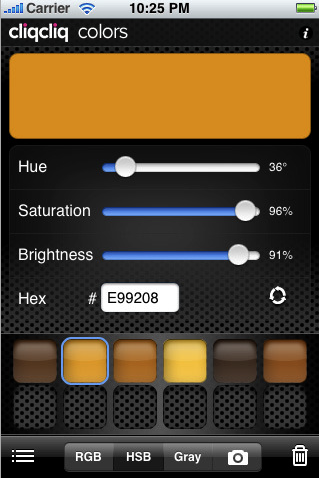 Our last major new feature is the ability to work with multiple palettes. Each palette can include up to 12 colors and can be named and favorited if desired. This is ideal for those of you juggling several projects at once.
In addition to all of these major new features, we've also made significant performance improvements and fixed some bugs. If you're already using cliqcliq Colors, you'll notice the sliders in version 1.1 are much more responsive and move with much more granularity than with the previous release. You will also notice some improvements to the user interface including an updated and repositioned scale button and more space between the color sliders and text inputs.
-----
Read More