FastMac iV Extended Battery / Charger for iPhone
Posted October 31, 2008 at 7:13pm by iClarified · 14724 views
FastMac today announced "iV," an extended battery pack & portable charger for Apple's iPhone that triples battery life and adds a built-in flash & Bluetooth headset charger. Armed with an iV, the iPhone is capable of up to 24 hours of talk time, 31 days of standby, 20+ hours of video & almost 72 hours of audio playback time. Winner of several awards at Macworld Expo, FastMac's iV for iPhone is shipping now and can be ordered from www.fastmac.com for a special introductory price of $79.95. Each iV carries a 1-year warranty and a 30-day money back guarantee. In addition, each iV comes with a unique 90-day trade-in warranty that allows the original owner to trade in their used iV for a brand new, next generation iV for half price .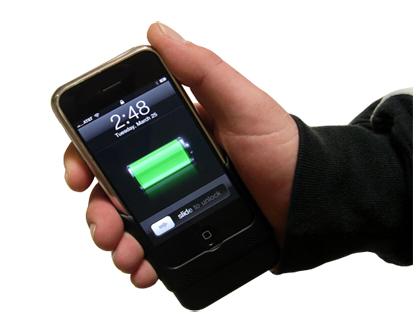 FastMac's iV contains a 3100mAh TruePower battery that is the longest lasting battery available for any iPhone. Unlike snap on chargers that stress the dock connector or fall off if the iPhone is used whilst charging, the iV is an on-the-go mobile battery charger that allows for continuous iPhone use even as it is being charged. Along with the dock connector port used for charging & syncing, the iV also has a full-size USB port that can simultaneously charge another device such as a Bluetooth headset, digital camera, game system or even another phone. The iV's built-in flash LED can be used for emergencies and low light photos or videos.
"iV seeks to address the 2 most common complaints about Apple's iPhone- not enough battery life & no flash for the camera," said Michael Lowdermilk, Business Development Manager of Fastmac Performance Upgrades, Inc. "Thanks to its many applications & features, even casual use can cause the iPhone's battery to drain before day's end, making the iV a must-have accessory for all iPhone users."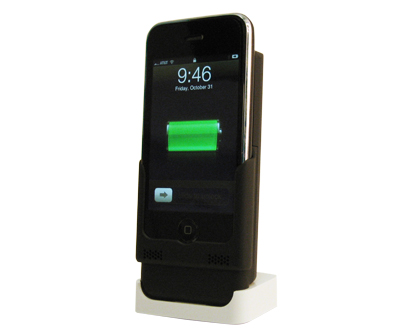 The iV's powerful TruePower battery is housed in a custom molded soft-touch non-slip case that is no taller than the iPhone itself and at just 3.9 ounces, weighs 25% less than the original iPhone. The bottom of the iV is contoured so that it can be docked (and charged) inside Apple's iPhone Dock & Universal Dock and its speaker chambers are designed to reflect sound up and out towards the listener instead of away from them.
"We're proud to be first to market with an extended battery for the iPhone 3G that not only lasts longer than any other iPhone battery, but also provides added functionality that no other product offers," said Edward Savio, President of Fastmac Performance Upgrades, Inc
Compatibility
FastMac's iV is compatible with all models of the iPhone & iPod touch. Its dock connector port can also connect to and charge all models of the iPod nano. Thanks to its secondary charging port, the iV is also compatible with any electronic device that can be charged via a standard USB cable & matching power connector (such as a Bluetooth headset, digital camera, another iPod and even another phone). According to the USB-IF, a non-profit association of USB developers & manufacturers, more than 1000 devices can be powered using the iV's secondary charging port