Satechi BT Media Remote for iPhone/iPad
Posted July 15, 2012 at 5:52pm by iClarified · 15844 views
Satechi BT Media Remote lets you control your iPhone, iPad, or iPod touch wirelessly.
Compact and lightweight, Satechi BT Media Remote is the ultimate multi-media companion for your Bluetooth iOS device. Enjoy the convenience of controlling your iPhone or iPad media wirelessly whether it is connected to your TV, dock station or car stereo.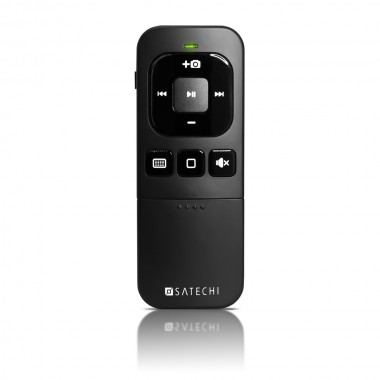 Multi Media Remote Control
Connected to your TV, a dock station or car stereo you can, play, pause, forward, rewind and mute or adjust the volume of music or video content on your iPhone or iPad from upto 33 ft. away.
Bluetooth 3.0
BT Media Remote supports Bluetooth 3.0 HID, Class II profile. It is compatible with: iPhone, iPad & other OS compatible devices (iMac, MacBook Air, MacBook Pro, Mac mini, etc.)
Siri Activation
Thanks to the Home button on BT Media Remote, you do not need to reach your iPhone to activate Siri while you are driving or jogging. Just long press the Home button on the remote and it works.
Camera Remote Shutter
The volume up button on BT Media Remote will trigger the Camera app to take a photo just like a camera remote shutter. This means you can place the iPhone on a tripod or stand, and snap a blur-free shot. The remote is also perfect for group shots, where you can be included!!
6 Months Battery Life
BT Media Remote powers via two CR-2025 coin cell batteries and boasts up to 6 months battery life.
Presentation Remote
BT Presentation Remote works with Keynote on Bluetooth enabled Mac computers. You can start the presentation with play button, and go to next and previous slides with forward and rewind buttons.
You can purchase the remote from the link below for $39.99.
Read More
[
via iSpazio
]