A survey of consumers finds interest in the iPhone 5 is almost double the interest in the iPhone 4S after it launched.

ChangeWave reports that nearly one-in-three consumers (32%) says they're Likely to buy the iPhone 5 in the future (19% Very Likely; 13% Somewhat Likely).

That compares to 10% Very Likely and 11.5% Somewhat Likely for the iPhone 4S after its launch.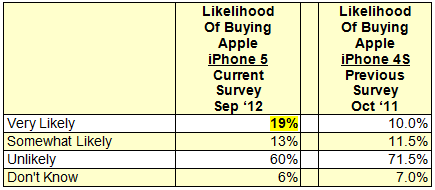 The survey also looked at iOS 6 Maps to see if it affected demand for Apple's new smartphone. Nine-in-ten users (90%) reported it was No Problem at All or they Haven't Experienced Any Problem, while 3% characterized it as a Very Big Problem and 6% said it was Somewhat of a Problem.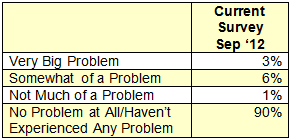 "Despite the media attention surrounding both the Apple Maps issue and the Apple Lightning port issue, neither has had an impact on the massive numbers of buyers queuing up to buy the iPhone 5," said Dr. Paul Carton, ChangeWave's VP of Research. "Rather, the survey results show both issues hardly rank as bumps in the road."

You can find the full report at the link below...

Read More