Apple will bring its Touch ID fingerprint detection technology to every new iPhone and iPad launching this year, reports KGI Securities analyst Ming-Chi Kuo.

Apple's Touch ID module should see shipments soar 233% in 2014. We believe every new iOS device launched this year will be equipped with Touch ID, including 4.7" and 5.5" new iPhone 6, iPad Air 2 and iPad mini 2 with Retina display. Considering shipments of new products and iPhone 5S sales last longer than in 2013, we forecast unit sales of the fingerprint sensor module to grow 233% to 120mn for 2014.

Notably, Apple may change the chemicals used in the module to improve durability.

We think Apple will opt for tin, versus previously used chemicals, for Touch ID module packaging of new iOS devices in order to boost durability. That is, it should procure Japan Unix's laser welding equipment for packaging.

Apple is expected to use Taiwan Semiconductor Manufacturing Company (TSMC) and its subsidary XinTec to produce the fingerprint sensors. Earlier this month, TSMC reportedly delivered its first batch of fingerprint sensors for the iPhone 6, iPad Air 2, and iPad mini 3.

This report corroborates a recent discovery of references to Touch ID support for iPads in iOS 7.1.

Please follow iClarified on Twitter, Facebook, Google+, or RSS for updates.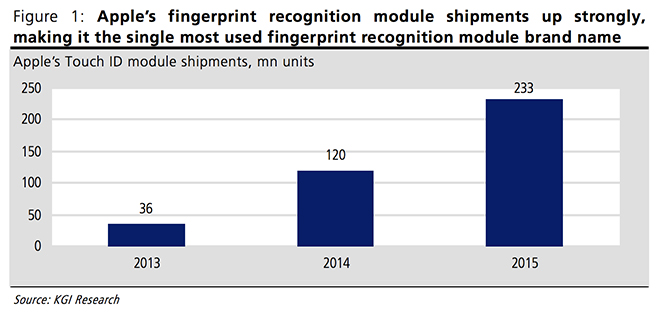 [via MacRumors] [via 9to5Mac] [via AppleInsider]