MobileMe Can Now Find Your iPhone (And Wipe It)
Posted June 8, 2009 at 8:30pm by iClarified · 9672 views
MobileMe starting June 17th will be able to find your lost iPhone, display a message or play a sound on it remotely, and do a remote wipe.
Locate your iPhone on a map.
To use Find My iPhone just enable it in the MobileMe settings on your phone. Then you can log in to me.com from any computer to access Find My iPhone and display your phone's approximate location on a map.
Display a message or play a sound on your lost iPhone.
You can write a message that will be displayed on your iPhone or you can tell MobileMe to play a sound that overrides the silent setting on your phone.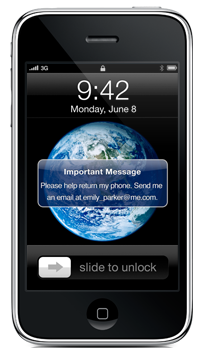 Protect your privacy with Remote Wipe
If you lose your iPhone and displaying a message on it hasn't resulted in its safe return, you can initiate a remote wipe to restore it to the factory settings.

Apple has also noted that a new iDisk app is coming to the iPhone and iPod touch.
View iDisk files on your iPhone
The free iDisk app which will be available from the App Store in iTunes, lets you view your iDisk files right on your iPhone. Popular file types, such as Microsoft Office and iWork '09 documents and presentations, PDFs, and more, are viewable in landscape or portrait. Any file you've viewed recently doesn't need to be reloaded. So if you start reading a document in the cab to the airport, you can quickly resume reading it on the plane.
Files that are too big to email can be shared. iDisk will send your recipient an email with a link to download your file. You can limit the number of days a shared file is available and set a password to protect it. And you don't even need to download a file first to share it.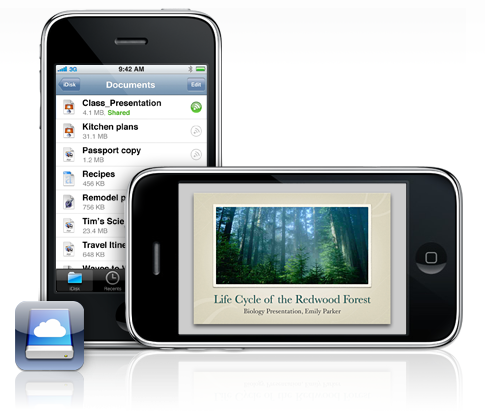 MobileMe can also help you overcome the limited size of your iPhone's inbox...
Search all your mail messages.
iPhone OS 3.0 brings search capability to Mail on your iPhone. You can search messages by sender, recipient, subject, or all headers. And if the message isn't on your iPhone, Mail searches for it in the MobileMe cloud. When the message is located, you can display it on your iPhone with no problem.
Read More