Haptic Feedback, Fingerprint Identification Could Come to iPhone
Posted July 2, 2009 at 12:25pm by iClarified · 7809 views
Newly published Apple patents suggest that Haptic Feedback and Fingerprint Identification may come to the iPhone, according to MacRumors.
Haptic Tactile Feedback
In this patent Apple outlines a way that the touch-based input components can use, for example, a grid of piezoelectric actuators to provide vibrational feedback to a user, while the user scrolls around a click wheel, slides across a trackpad, or touches a multi-touch display screen.
However, one of a touchscreen's biggest advantages (i.e., the ability to utilize the same physical space for different functions) is also one of a touchscreen's biggest disadvantages. When the user is unable to view the display (because the user is occupied with other tasks), the user can only feel the smooth hard surface of the touchscreen, regardless of the shape, size and location of the virtual buttons and/or other display elements. This makes it difficult for users to find icons, hyperlinks, textboxes or other user-selectable input elements that are being displayed, if any are even being displayed, without looking at the display.
...
Unless touch input components are improved, users that, for example, drive a motor vehicle, may avoid devices that have a touch input component and favor those that have a plurality of physical input components (e.g., buttons, wheels, etc.).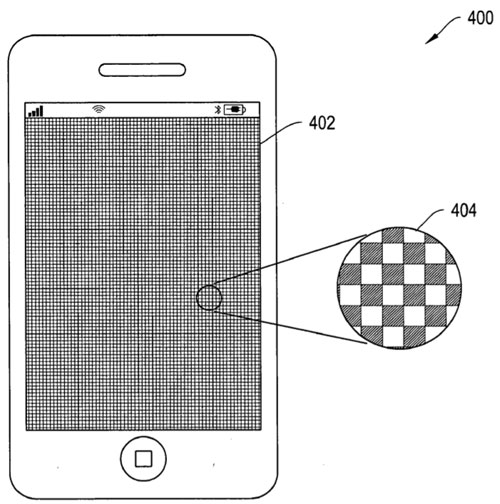 Fingerprint Identification as an Input Method
In this patent Apple details
systems and methods for controlling an electronic device by detecting and using a person's fingerprints. A device can store user input signatures, including fingerprint signatures. The user input signatures can, in turn, be associated with user-selectable commands. When a user provides user input (including fingerprints) to the electronic device that matches one of the stored user input signatures, the device can initiate the associated user-selectable command.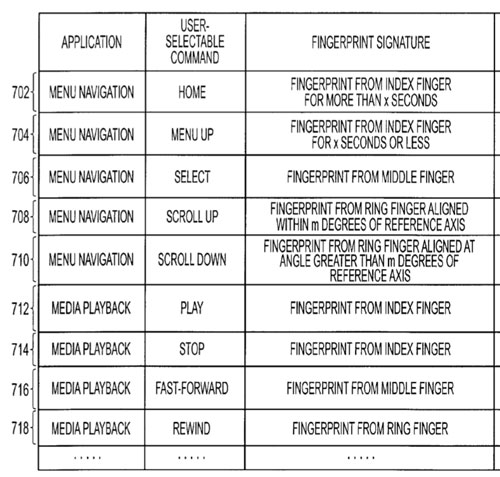 RFID Reader
Radio-frequency identification (RFID) is the use of an object (typically referred to as an RFID tag) applied to or incorporated into a product, animal, or person for the purpose of identification and tracking using radio waves. Some tags can be read from several meters away and beyond the line of sight of the reader. [
Wikipedia
]
Apple suggests that an RFID could be placed into the touch sensor panel...
The RFID antenna can be placed in the touch sensor panel, such that the touch sensor panel can now additionally function as an RFID transponder. No separate space-consuming RFID antenna is necessary. Loops (single or multiple) forming the loop antenna of the RFID circuit (for either reader or tag applications) can be formed from metal on the same layer as metal traces formed in the borders of a substrate. Forming loops from metal on the same layer as the metal traces are advantageous in that the loops can be formed during the same processing step as the metal traces, without requiring a separate metal layer.
[
via MacRumors
]