Check out some of these preliminary iPhone 6 benchmark results posted by AnandTech for browser benchmarks, GPU performance, and web browsing battery life.

Browser Benchmarks:
There was a 13% increase in performance when running the SunSpider test and a 7.5% increase in the Kraken test. Notably, the iPhone 6 did better in the SunSpider test but the iPhone 6 Plus performed better in the Kraken test.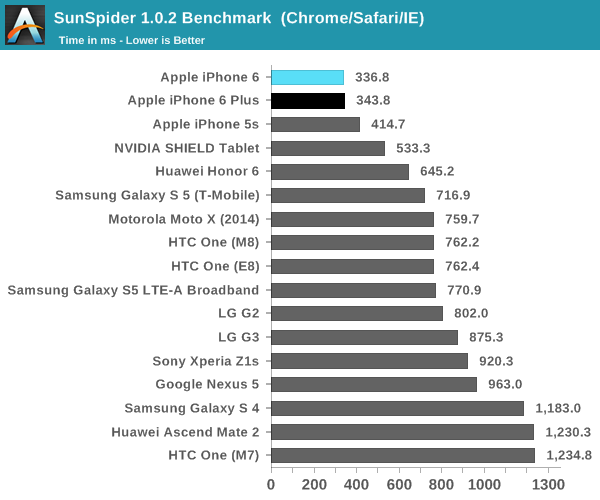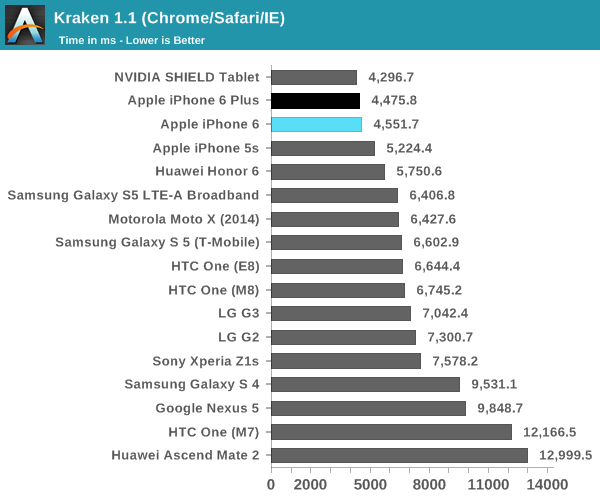 GPU Performance:
AnandTech found that the iPhone 6/A8 generally had a pretty solid lead over the competition in GPU performance. Also the 2208x1242 resolution of the iPhone 6 Plus that all content is rendered at had a significant impact to GPU performance.



Web Browsing Battery Life:
The iPhone 6 beats nearly every Android smartphone on the market, according to the chart below. The iPhone 6 Plus performs even better due to its larger battery but is not able to touch the Ascend Mate 2.

The battery of the iPhone 6 lasted 11.47 hours when browsing the web over Wi-Fi. Apple claims a battery life of up to 11 hours for this task. The battery of the iPhone 6 Plus was tested to last 13.72 hours when browsing the web over Wi-Fi. This is higher than Apple's claim of 12 hours of battery life for Wi-Fi browsing.

AnandTech has many more benchmark charts. You can view them all at the link below...

Read More