Apple Daytrading: Cash In On The Macworld Keynote
Posted January 2, 2008 at 9:31am by iClarified · 4240 views
Matt Haughey writer of
A Whole Lotta Nothing
has worked up the numbers to answer a few AAPL investing questions:
What if you invested $10,000 the day before the keynote, then sold at the end of the keynote day? What if you waited until the day after?
What if you did this every year for the past ten years that Jobs has been doing them?
His results show that the last two years have been amazing, showing 7.3% growth if you held AAPL for 24 hours, and 11.9% if you held it for 48 hours. Unfortunately, the numbers for the past decade are only 1.2% growth for 24 hours and 2.2% growth for 48 hours.
He notes that if you held the $10,000 of shares bought in 1997, your investment would be worth $525,187 today! Thats a pretty huge return!
Take a look at this chart to see his detailed analysis.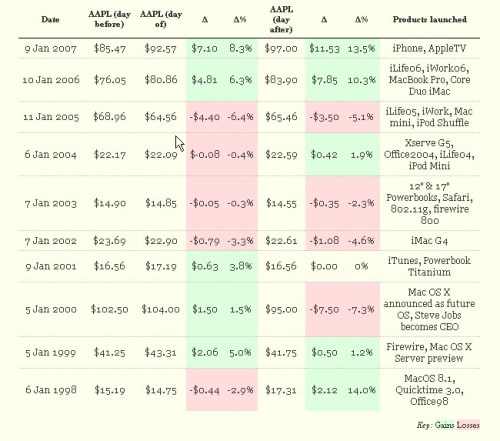 Read More