Yahoo has announced that its mail app now supports Gmail in addition to Outlook.com, Hotmail, AOL Mail, and of course, Yahoo Mail.

All the features you need and love in Yahoo Mail – powerful search, smart contacts, rich compose features and Yahoo Account Key for password-free sign-in – are now available with Gmail. Here's your path to a more convenient, powerful and personal email experience. You can now search across your entire history of emails, from day one, for all connected mailboxes! (Not just your most recent emails, which is how it's done in many apps today).

We even sync every single action across all your mailboxes, like moving emails between folders, deleting emails, marking them as read, etc. When you compose an email, you can send from any account you've connected (i.e. personal, school, work, etc.) even though you're using Yahoo Mail.



Yahoo Mail features that you can now use across your Gmail emails:
● Sign in, Password Free: With Yahoo Account Key on mobile, you no longer have to memorize complicated passwords. Account Key makes signing in to your Yahoo account as easy as tapping a button.
● Compose Engaging Emails: Easily add photos and videos with the new Yahoo Mail app. Or, try the new compose feature on desktop to find and add not only photos and videos, but also GIFs, files and links too. Just click on the "+" sign when composing a new message.
● Search Smarter: Find what you need quickly with our search results pages that not only display relevant messages but also files and photos from all your connected mailboxes.
● Access Contacts Across Your Mailboxes: Our intelligent contacts manager, powered by Xobni technology, makes suggestions for who you should email based on your habits. Yahoo Mail also displays contact cards that include information you may need about someone (i.e. email addresses, phone numbers, social media info, email history and more).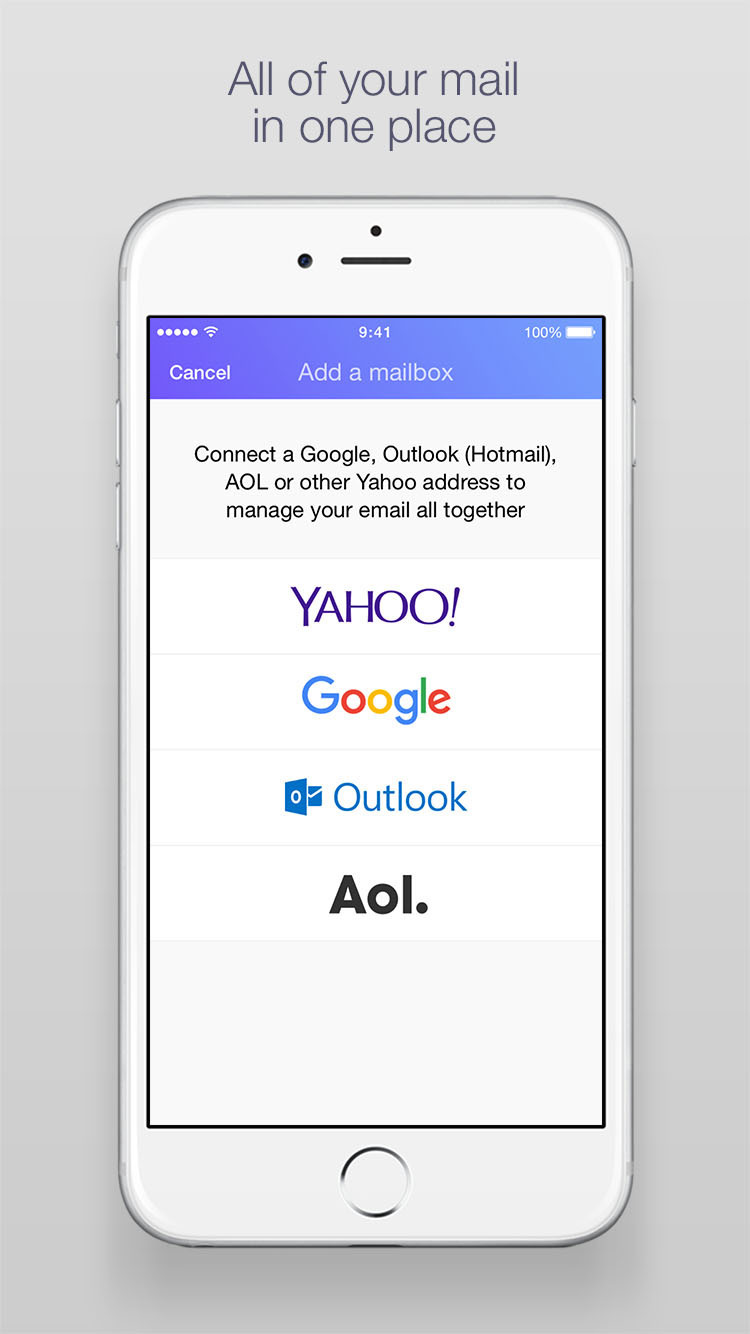 Yahoo Mail Features:
- Delete or move multiple messages easily - just tap and hold any message to select.
- Add Yahoo, Google, Outlook or AOL mailboxes and easily switch between them.
- Attach multiple photos and videos, all at once.
- Search across all of your messages, contacts, files and photos, faster than ever.
- Use Smart Views to sort your emails by categories.
- Press down on the compose button to quickly compose a message to yourself.
- Stay in the know with news from Yahoo and the Yahoo Magazines.
- Enable Account Key for password-free sign in.
- Never have to delete an email with 1000GB of free space.

What's New In This Version:
- All of your mail in one place – manage your Gmail and Google app mailboxes with the Yahoo Mail app.
- Multitask on an iPad with ease – iOS 9 Slide Over and Split View now fully supported.
- Performance improvements – especially when opening messages from notifications.

You can download Yahoo Mail from the App Store for free.

Read More