Apple Accidentally Leaks Design of New iPhone 8!
Posted July 31, 2017 at 2:37am by iClarified · 36141 views
Apple has accidentally leaked the design of the new iPhone 8 in firmware for the upcoming HomePod smart speaker.
Since the HomePod's firmware went live, developers Steve Troughton-Smith and
Guilherme Rambo
have been busy examining the software for items of interest. While some
new details about the HomePod
have been revealed, today's discoveries are about Apple's next generation iPhone.
Troughton-Smith found references which confirm that the new iPhone will have a facial recognition feature.
I can confirm reports that HomePod's firmware reveals the existence of upcoming iPhone's infra-red face unlock in BiometricKit and elsewhere

Interestingly, the facial recognition feature appears to be referred as pearlID. Here's a string found in the firmware: "biometric ID enabled, but neither touchID nor pearlID is enabled."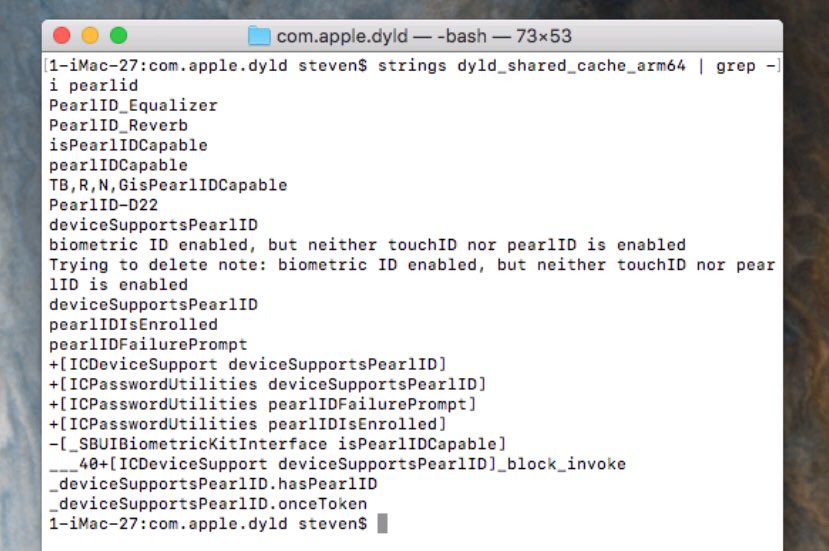 Even more exciting, developer Guilherme Rambo has found an icon representation of the new iPhone. Rambo found evidence of infrared and the "new bezel-less form factor as well".
The icon confirms the many leaks we've been seeing over the past few months. The iPhone has a nearly edge-to-edge display, slim bezels, a notch at top for the earpiece and camera, and no Home button! Rambo says the codenamed for the bezel-less phone is "D22".
Bloomberg reporter
Mark Gurman
claims "the infrared is so the Face Unlock on the iPhone 8 can work in the dark/at night."
Troughton-Smith comments, "There was enough smoke on borderless, notch-at-the-top iPhone design before to believe it, but now it's in the OS, so guess it's a done deal".
He also revealed that the bezel-less iPhone image can be extracted from Payment_glyph_phone-D22.caar in PassKitUIFoundation.framework using code pictured below.
Stay tuned to iClarified on
Twitter
,
Facebook
, or
RSS
for updates.