Parallels has announced the release of Parallels Desktop 13 for Mac which provides macOS High Sierra readiness and support for upcoming Windows 10 features.

Bringing together the best of both worlds, Parallels Desktop 13 makes it simple for MacBook Pro users to add Windows applications to the Touch Bar, and use Touch Bar within Windows applications. It is also the first solution to bring the upcoming Windows 10 People Bar feature to the Mac – including integration with the Mac Dock and Spotlight. The new version also features up-to 100 percent performance improvements for completing certain tasks.

"This year, for the first time ever, we are bringing the two hottest features from Mac and Windows into one place via Parallels Desktop 13 for Mac," said Jack Zubarev, Parallels president. "This new release delivers our best-ever Windows on Mac performance, plus innovative and useful new features and tools to help users get more done quickly and efficiently."




The Parallels Installation Assistant will automatically install Windows 10 into a virtual machine (VM), which can be purchased at a later date without losing data or installed applications. It also enables users to purchase and automatically install Windows 10 from Microsoft, add an existing copy of Windows, and simply move their PC to their Mac. Users can choose to make Windows look like a PC (Full Screen) or make Windows invisible (Coherence mode), while launching Windows apps from the Mac Dock, Launch Pad or Windows Start Menu.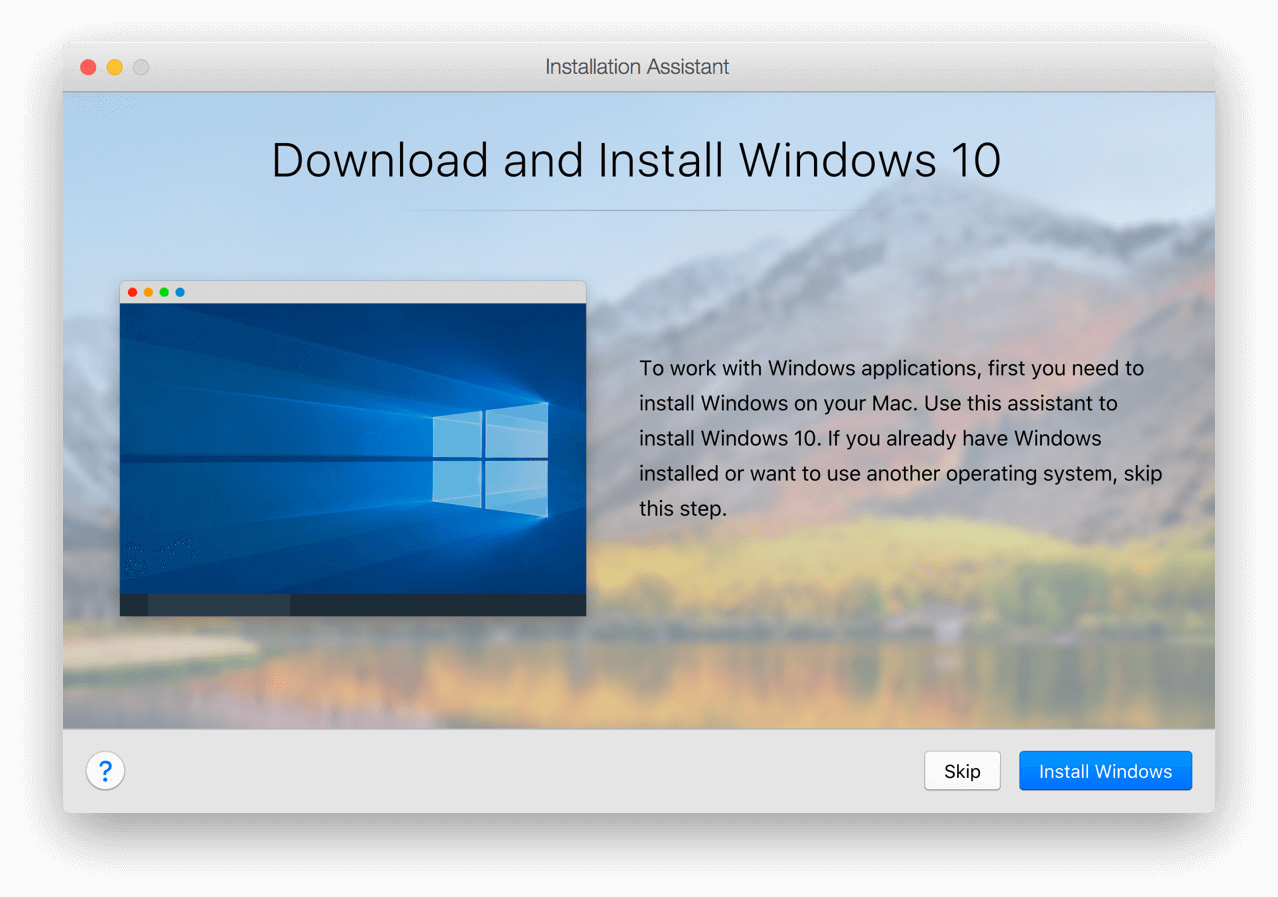 Here's look at the features in Parallels 13...

-----
Best of Both Worlds
Parallels Desktop 13 provides Mac Touch Bar integration for Microsoft Outlook, Word, Excel and PowerPoint, as well as browsers including Internet Explorer, Microsoft Edge, Google Chrome, Mozilla Firefox, and Opera. Additionally, when you are using the Windows Start Menu or Desktop, Parallels Desktop 13 features Taskbar pinned elements, along with Cortana, Task View and settings in the Touch Bar. Thousands of other Windows applications that run in Parallels Desktop can quickly be customized with popular Touch Bar actions, if the default set of functional keys is not enough.

Not only can Parallels Desktop enhance existing Mac features, but it also can build on Windows tools as well. Parallels Desktop 13 integrates People Bar (from Windows 10 Insider Preview build 16232), a forthcoming Windows 10 feature that lets users pin contacts to the Taskbar. Although Windows limits People Bar contacts to three, the Mac Dock doesn't limit favorite contacts and enables their photos to be larger for easy viewing.




More Productivity Tools
New Parallels Desktop 13 innovations include Picture-in-Picture (PiP) View, a feature which creates windows of other active VMs, which are always visible on top, even when a Mac app is in Full Screen mode. Now, it is easy to monitor and work in multiple operating systems (OS) and their applications simultaneously on one screen, or watch a video while switching between macOS Spaces and applications. PiP View joins popular Parallels Desktop customization settings such as Coherence (Windows is invisible while using Windows apps on a Mac), Full Screen mode, and Window mode (Windows in a window in macOS).

New Parallels Desktop for Mac Business Edition features coming this Fall include the customer-inspired Single Application mode, which lets IT admins deliver, lock and secure an invisible Windows VM with selected applications to a user's Mac Dock – making it easy for them to discover and use the Windows apps just like Mac apps.

The latest version of Parallel Desktop provides a number of visual and display improvements for improved transitions and better scaling resolution. Owners of hi-res Retina displays will enjoy greatly improved sharpness of text and graphics in scaled mode.

More than 30 Single-click Utilities for Windows and Mac:
● Clean Drive – easily free up disk space
● Presentation Mode – Prevent embarrassing notifications, desktop reveals of personal files, and screen saver lockout delays during the presentation – in just one click. (Mac only)
● Download Video – In just one click, download video from YouTube, Facebook and other websites so you can enjoy watching it anytime
● Find Duplicates – Search any drive or folder to quickly find identical files (even with different names), and free up disc space
● Record Screen – Capture video of your entire screen, a window or select area – which can include audio from your computer microphone – in one click.

Significant performance improvements include:
● Up to 100 percent performance improvement for External Thunderbolt SSD drives (near native performance)
● Up to 50 percent faster Snapshot creation for VMs with a large amount of memory.
● Up to 47 percent faster working in Windows files in Windows on rotational discs
● Up to 47 percent faster working with Windows files on a Mac
● Up to 40 percent faster USB device performance in most scenarios
● OpenGL 3 support added for DIALux evo professional lighting design software and the popular strategy game Northgard

In addition to the overall improvements to Parallels Desktop 13 for Mac, Parallels has made upgrades to the Parallels Desktop for Mac Pro and Business Edition including:

Parallels Desktop 13 for Mac Pro Edition
● Assign up to 32 cores (vCPU) and 128 GB of vRAM per VM, so upcoming iMac Pro users can create super powerful VMs.
● View Set Resolution menu to immediately switch resolutions for podcast, video tutorial or web browser testing – including common 4:3, 16:9 and 16:10 ratios with resolutions from 1024 x 768 to 3360 x 2300.
● Quick Virtual Machine IP Address Lookup to check and copy IP address from GUI to the
clipboard in one click
● Free pre-configured VMs in the Installation Assistant, which can be installed in one click, now include: Windows 10 Development Environment, Linux (Mint, CentOS, Debian GNU, Ubuntu and Fedora), Android and macOS.
● Analyze and optimize apps' performance in Parallels Desktop with improved Intel VTune Amplifier, Linux 'perf' and Mozilla "rr" support
● Modern IE Test Environments in the Installation Assistant now feature pre-configured 90-day trial VMs from Microsoft which include: Microsoft Edge on Windows 10 (stable), Microsoft Edge on Windows 10 (preview), IE 11 on Windows 8.1, IE 11 on Windows 7, IE 10 on Windows 7, IE 9 on Windows 7, and IE 8 on Windows 7.

Parallels Desktop 13 for Mac Business Edition
● Single Application Mode deployment to help end users focus on their end goal instead of being distracted by unfamiliar Windows and virtualization elements
● Ability to add selected Windows applications to user's Dock upon deployment
● New Business Edition features coming this Fall include:
● Ability to invite users via email for improved productivity and end user management
● Assign separate administrators for sublicenses for improved efficiency in management
● New design of Parallels My Account portal to manage subscriptions and licenses
-----

Availability and Pricing
Today, Parallels Desktop 13 for Mac, Parallels Desktop for Mac Pro Edition and Parallels Desktop for Mac Business Edition are available for subscribers and upgraders from Parallels Desktop 11 and 12 ( www.parallels.com/upgradepd13 ), as well as new customers, online at www.parallels.com/desktop and at local retail and online stores worldwide. Free 14-day full-featured trials of Parallels Desktop are also available for download.

The recommended retail price (RRP) of Parallels Desktop 13 for Mac is $79.99. Upgrades for existing Parallels Desktop 11 and 12 for Mac perpetual license customers are $49.99, with an introductory offer to upgrade to a Parallels Desktop Pro Edition subscription for $49.99 per year for life. Parallels Desktop for Mac Pro Edition and Business Edition are each available to new customers for $99.99 per year. Parallels Desktop for Mac Pro Edition and Business Edition include a complimentary concurrent subscription to both Parallels Toolbox for Mac and Parallels Toolbox for Windows ( www.parallels.com/toolbox ), as well as Parallels Access ( www.parallels.com/access ).

Read More