Leaked Schematics for the 6.1-inch LCD iPhone and 6.5-inch OLED iPhone [Images]
Posted June 11, 2018 at 1:59pm by iClarified · 19283 views
Schematics have allegedly leaked for Apple's upcoming 6.1-inch LCD iPhone and 6.5-inch OLED 'iPhone X Plus', reports Forbes. The site obtained the schematics from accessory maker Ghostek, who also leaked them the design of the Samsung Galaxy S9 in December.
The schematics for the iPhone X Plus purportedly show a triple lens camera, something we've
reported on
already. However, looking at the diagram itself, the three lenses could be two lenses and one flash, as currently seen on the iPhone X. Forbes says this is not the case.
Note: I've been asked if one lens is the flash, it isn't. You'll see on iPhone X schematics, the flash is substantially smaller than the cameras. This isn't the case here. While not pictured, the flash is expected to be on the right side of the three cameras.
The dimensions of the iPhone X Plus are slightly smaller than the iPhone 8 Plus: 157.2 x 77.1 mm (6.18 x 3.03-inches) compared to 158.4 x 78.1 mm (6.24 x 3.07-inches). It's expected to feature a steel chassis and weigh slightly more than the iPhone 8 Plus (202g).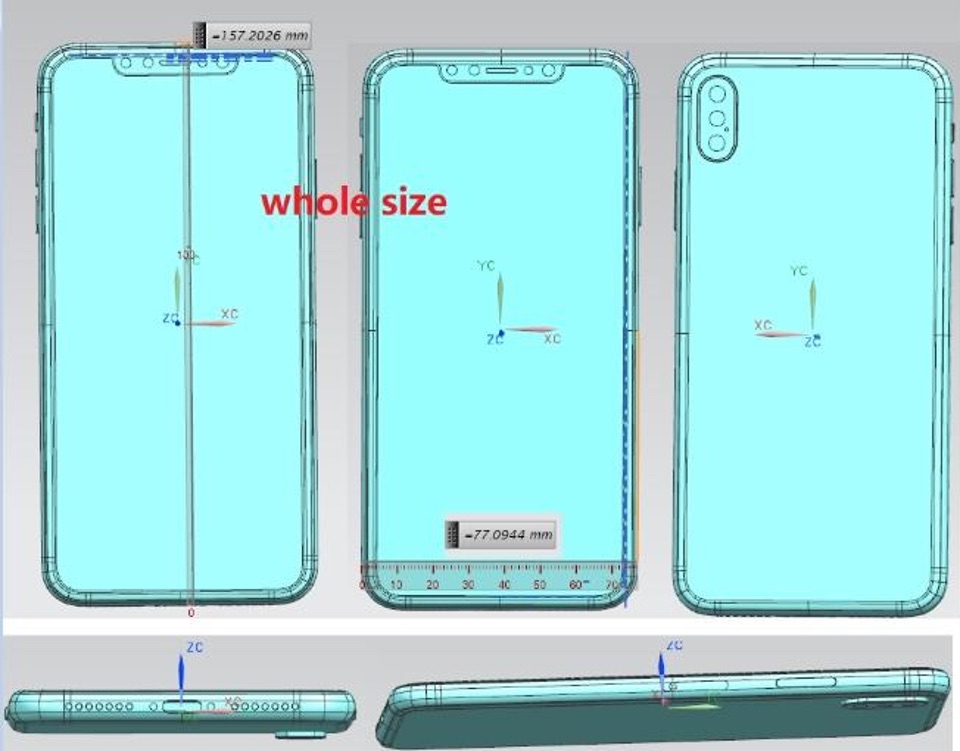 The 'budget' iPhone, said to feature a 6.1-inch LCD display, will purportedly measure 147.12 x 71.52 mm (5.79 x 2.81-inches) which is longer and wider than the current 5.8-inch iPhone X at 143.6 x 70.9 mm (5.65 x 2.79-inch).
The schematics show a single rear camera. Sources say the device will lose 3D Touch but gain gen one Face ID. The iPhone X Plus and second generation iPhone X are said to be equipped with gen two Face ID.
Apple is expected to unveil its three new iPhones this fall. Please follow iClarified on
Twitter
,
Facebook
,
Google+
, or
RSS
for updates.
Read More