iToner 1.0.6 Supports iPhone OS 1.1.3
Posted February 23, 2008 at 1:58am by iClarified · 8437 views
Ambrosia Software, Inc. today announced the release of iToner 1.0.6. This update of the highly popular iPhone custom ringtone transfer tool offers improved support for iPhone OS 1.1.3, along with other bug fixes and improvements.
Exempt from per-ringtone fees, iToner lets you easily transfer your own MP3, AAC, WAVE, and AIFF audio files to your iPhone, and enjoy them as custom ringtones.
Three ringtones are included with iToner, recorded from an instrument called the Mbira. With a very distinct sound, these are very unique ringtones for your iPhone.
The iToner 1.0.6 update is free for all registered users, and may be downloaded here:
http://www.AmbrosiaSW.com/utilities/itoner/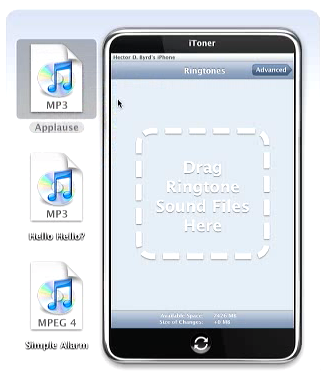 iToner 1.0.6 features the following improvements and changes:
-- Support for iPhone OS 1.1.3
-- Support for .mp3, .mp4, .wav, and .aif files
-- Intelligent audio processing for added ringtones
-- French, German, and Italian localizations
-- Various fixes and enhancements
With iToner, simply drag and drop your favorite audio files onto the elegant and familiar interface, and click the Sync button. Your custom ringtones are instantly accessible from your iPhone! Even better, your ringtones will continue to work with future iPhone OS updates.
Your iPhone allows you to assign different ringtones for your different contacts. With iToner, now you can have a Barry White ringtone for when your girlfriend calls, Frank Zappa for when your college buddies ring you up, or the theme from Jaws for when your boss is calling.
Read More