Chronos Releases SOHO Organizer 7.0
Posted March 27, 2008 at 10:10am by iClarified · 4716 views
Chronos LC today announced the release of SOHO Organizer 7.0, a MAJOR upgrade to its smart alternative to Apple's iCal and Address Book. SOHO Organizer is designed for both individual and workgroup use and this latest upgrade brings recurring tasks to the Mac market. Chronos is offering a BETTER and BEST upgrade path for registered SOHO Organizer users starting at $49.99 (see below for details).
According to Robert McCullough, V.P. of Development at Chronos, "SOHO Organizer 7 is the first Mac OS X information manager to support recurring tasks. It's also the first Mac OS X product of its kind to display these recurring tasks directly in day, week, and month views. Mac users are going to be thrilled."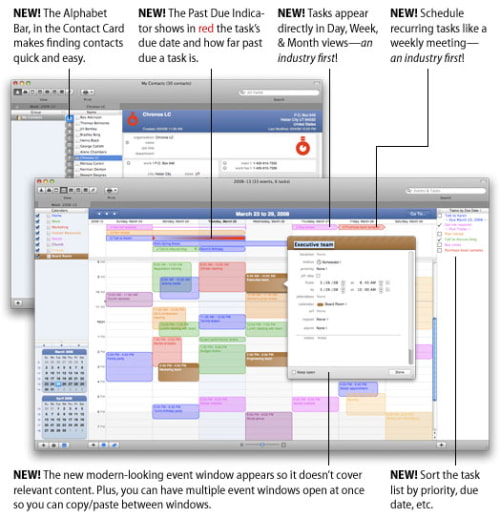 MAJOR NEW FEATURES
• Recurring Tasks. Users can now schedule tasks that repeat according to a pattern they define like the 5th of each month. Recurring tasks are useful to-dos like writing weekly reports, exercising, paying bills, etc.
• Tasks in Day, Week, & Month Views. Tasks, whether recurring or not, now conveniently show up directly in Day, Week, and Month views. This is in stark departure from the master task list approach found in other applications.
• Alphabet Bar. The new Alphabet Bar in the Contact Card view makes it easy for users to filter and find contacts. Users simply click "W" to see all their contacts whose name starts with "W"—just like a phone book.
• Date Bar. A new Date Bar appears at the top of every calendar view to make it more convenient to move forward in time, move backward in time, move to the current date, and jump to any date.
• Print Day, Week, and Year Calendars. Users can now print attractive calendars for all calendar views including a year printout.
• Improved Interface. Major changes have been made to the interface to improve efficiency and usability.
• Auto-Age Calculation Feature. Date fields in the Contact Card view automatically calculate and display ages which is useful for dates like birthdays, anniversaries, memberships, etc.
• Custom Task Sorting. The master task list can now be sorted by different fields like priority, due date, etc.
• Activity & Contact Card Reports. Create and print custom event/task and contact card reports.
• CD/DVD Labels. Design and print CD and DVD labels on practically all manufacturers' label stocks.
• DVD Covers, Jewel Case Inserts, Booklets, etc. Design and print a wide variety of DVD covers, jewel case inserts, booklets, and more.
• Direct-to-Disc Printing. Print directly onto discs using select Canon, Epson, and HP inkjet printers.
• Seiko & Brother Label Printer Support. Quickly print labels on Seiko or Brother label printers.
ENHANCEMENTS, OPTIMIZATIONS, FIXES
SOHO Organizer 7.0 also includes other enhancements, optimizations and bug fixes which are detailed on the Chronos web site. These include: a) time zone indicators in calendar views; b) improved recurring event support; and c) improved phone number formatting.
Read More