iPhone Usuage Patterns Revealed
Posted April 4, 2008 at 10:04am by iClarified · 7179 views
iSuppli research indicates that iPhone users spend more time exploiting its multimedia features than making calls.
Owners of all types of mobile handsets use their phones for voice communications 71.7% of the time, according to research from iSuppli's ConsumerTrak survey of US residents. In contrast, iPhone owners spend just 46.5% of their time with the product engaged in voice calls.
"This usage pattern shows Apple has succeeded in producing a true convergence product that consumers like to use for multiple purposes," said Greg Sheppard, chief development officer for iSuppli. "Apple has come as close as anyone to achieving a balanced convergence in mobile-handset features and usage."
Read More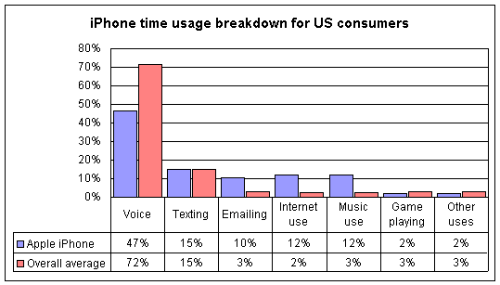 Source: iSuppli, compiled by Digitimes, April 2008