Apple Notebooks to Get Major Redesign ?
Posted April 7, 2008 at 4:16pm by iClarified · 5986 views
Apple's current MacBook and MacBook Pro notebooks will be the last of their breed according to AppleInsider. They have learned that both product families are destined for major design changes upon their next refresh.
AppleInsider believes the 13 inch MacBook will undergo the most significant changes, shedding their plastic enclosures for aircraft-grade aluminum and stainless steel.
Though precise details are admittedly limited given the ongoing revision process, it's presumed this will include instances of matte black on portions of the casings, oversized trackpads, and the adoption of the MacBook Air's keyboard by the MacBook.
The new notebook designs should accompany the Montevina platform which Intel indicates should be ready in June. These chips will feature a 1066MHz front-side bus and clock between 2.26GHz and 2.8GHz.
It is possible that Apple could use WWDC 08 to showcase its new notebook designs.
Read More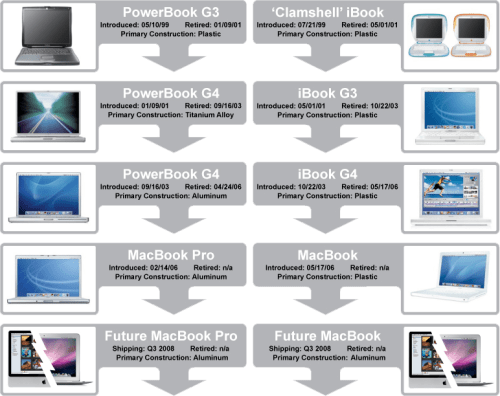 Source: AppleInsider