New Google Reader For iPhone
Posted May 13, 2008 at 10:42am by iClarified · 4080 views
Google has released a new beta version of Google Reader designed for the iPhone and other advanced mobile browsers.
"To make our (and your) Reader iPhone experience better, we wanted to really take advantage of the iPhone's capabilities," the company wrote in its official blog. "Today we're releasing a new beta version of Reader designed for the iPhone and other mobile phones with advanced browsers. You can use it by visiting
http://www.google.com/reader/i/
on your phone."
Google Reader makes it easier to keep up with your ever-expanding reading list of content from across the web. You can:
* Automatically get the latest news and updates from your favorite sites.
* Sort your reading list based on what's most relevant to you.
* Organize what you read with labels and stars.
* Quickly share interesting items with friends via email or by blogging them, directly from Reader.
Read More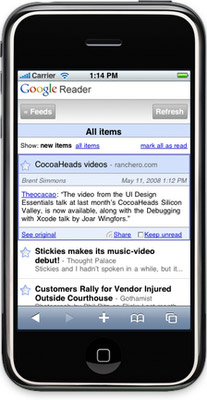 Source: MacNN