Parallels Server for Mac Now Available
Posted June 18, 2008 at 10:16am by iClarified · 3839 views
Parallels has announced that Parallels Server for Mac, the world's first server virtualization solution for Intel-powered Apple systems, is now available. Parallels Server for Mac is a powerful and easy-to-use hypervisor solution for server virtualization that provides a great value for cost conscious organizations seeking to standardize and optimize their IT infrastructures. It can run on any Intel-powered Apple hardware, including the Xserve and Mac Pro, running OS X Leopard Server and comes to market after a successful worldwide beta testing program involving Mac, Windows and Linux server professionals.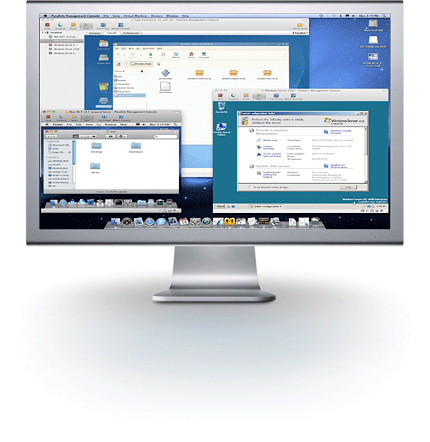 Enterprises of all sizes can use Parallels Server for Mac to seamlessly standardize on the Mac platform and integrate into existing IT infrastructures. It can be used to effectively consolidate server resources, consolidate and support legacy OSes and applications, streamline server and application deployment, reduce maintenance and management, simplify software testing and development, and optimize server and application availability.
"Parallels Server for Mac opens the door for virtualization on Apple servers and represents an important step in delivering on our 'Optimized Computing' vision by adding hypervisor-based server virtualization," said Serguei Beloussov, CEO of Parallels. "Parallels Server for Mac will be a catalyst in driving Mac server adoption in the enterprise, as it is the first product ever to enable IT professionals and developers to capitalize on the power of OS X Server while keeping the flexibility to run Windows and Linux workloads."
"Leopard Server is easy to set up and includes innovative features such as Podcast Producer and iCal Server that you can't find in other major operating systems," said Ron Okamoto, Apple's vice president of Worldwide Developer Relations. "Now, Parallels Server makes the combination of Leopard Server and Xserve even more appealing to IT departments considering a switch to the Mac."
Parallels Server for Mac includes industry-first support for OS X Leopard Server as a guest operating system in a virtual machine. Running OS X Leopard Server in a virtual machine enables Mac server administrators to run multiple, isolated workloads on a single OS X Leopard Server-powered Xserve, providing the ability to test and sandbox with more agility than ever before.
Parallels Server includes a wide range of enterprise-class features, such as:
* Virtual Support for 4-way Symmetric Multi-processing (SMP), which lets users assign up to 4 virtual cores to a virtual machine for exceptional performance under heavy workloads. 2-way SMP is also supported, giving users an unsurpassed level of virtual machine customization.
* The inclusion of key next-generation technologies such as an ACPI BIOS, and support for up to 32GB of physical RAM.
* Support for Intel® Virtualization Technology (Intel VT-x) technologies to take full advantage of hardware-assisted acceleration.
* A fully Scriptable Multi-client Parallels Management Console that lets users manages virtual and physical servers locally and remotely. The Parallels Management Console's APIs are completely open and scriptable with Python, enabling administrators to automate common server tasks straight from the command line.
* An Integrated Toolset that enhances and simplifies the user experience. The toolset includes: Parallels Tools, a set of helpful utilities that make working with virtual servers easier and more productive; Parallels Transporter, a built-in, assistant driven physical to virtual (P2V) and virtual to virtual (V2V) migration tool; and the Parallels Image Tool, which lets users modify settings of their virtual hard disk.
* The ability to run any combination of more than 50 different x86 (32-bit) and x64 (64-bit) guest operating systems, including the just released Windows Server 2008 in secure, high-performing virtual machines.
* A Powerful SDK that enables third party vendors to integrate Parallels Server support into their products. The SDK is the same one used by Parallels engineers to build the Parallels Management Console.
A full list of features and specifications is available at www.parallels.com/server.
Pricing and Availability
Parallels Server for Mac is available immediately at a standard retail price of $999/ £620/ €860 per system, running on an unlimited number of cores. Platinum and Gold Maintenance packages, which include free upgrades and priority support, are also available for purchase. Parallels Server for Mac will be available via the Parallels worldwide network of channel partners.
Read More