Hackers have reportedly managed to bypass Apple's iCloud activation lock allowing users to restore iDevices without authentication.

The 'tool' called doulCi was created by @AquaXetine and @MerrukTechnolog. They describe it as follows:

doulCi is the worlds first Alternative iCloud Server, and the world's first iCloud Activation Bypass. doulCi will bypass and activate you iDevice for you when you are stuck at the Apple activation menu. So, why would you use it? For example, if you have forgotten your Apple ID and password or no longer have access to your old itunes-email account then its impossible to regain control of your Apple Product!! doulCi is the solution that will enable you to can regain permenant access.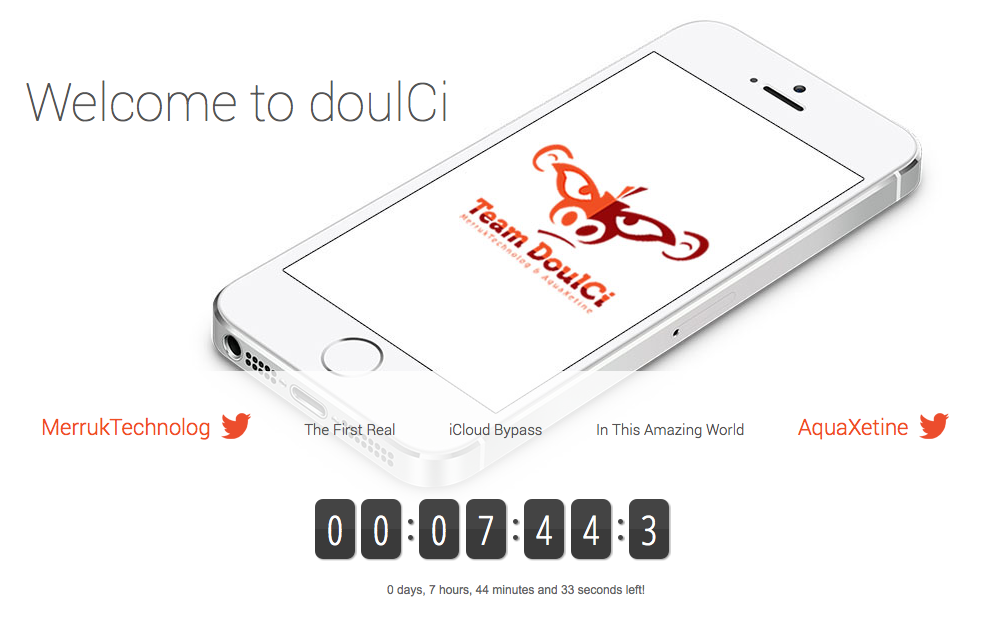 Not all devices are supported, the team says GSM iPad's and iPhone 4s, iPhone 5 (c) (s) are still In beta testing.

To use doulCi you must add a line to your hosts file that directs your computer to look to their server instead of Apple's activation server. If the device is your own and not a stolen one, this may compromise your information.

It's very simple. Just Add the "MAGIC LINE" to you "hosts" file on any operating system you are using, and then you are just in one step forward to make the device bypassed. All you need to do is open the famous software developed by Apple inc. and plug your device in the USB Port on your machine and it will be done in some seconds.

MuscleNerd notes that "This is gaining traction with media https://twitter.com/cnntech/status/469166646477991936 … but it only turns iPhones into iPods (no cell) and isn't persist thru restores".

Looking through the Twitter reports many users do indeed report an issue with service; however, we have also been able to find some reports indicating that carrier service was working.

@AquaXetine, tweeted a couple hours ago that a carrier fix is coming for those having signal problems:

-----
@AquaXetine @MerrukTechnolog Nope, it's okay) but it's "no signal" =( i don't use the cell - GPS only) so u saved my day, anyway)))

@h0R1z0Ne @MerrukTechnolog hehe :) carrier fix is coming to ::)
-----

According to Telegraaf, the two hackers worked for five months on the exploit. They say their motive is not to make money but to make users aware that the iPhone and iCloud online storage is not safe. They allegedly informed Apple about the vulnerability in late March but the company did not reply.

It's not clear when the service will be up again; however, we strongly recommend you proceed with caution. Notably, iH8sn0w, a well known hacker in the iPhone community has also discovered an iCloud activation bypass; however, despite being posted online, it was protected by an insanely difficult password, and thus has not gone public.

Please follow iClarified on Twitter, Facebook, Google+, or RSS for updates.

Read More