Screens 4, an update to the popular VNC client for macOS, is now available for download.

With version 4, Screens is now at par with its counterpart, Screens for iOS. Many features that were available only on iOS were still missing, such as Curtain Mode, Availability Indicators and One-Click User Passwords. Screens 4 for macOS does have some exclusive features such as File Transfers and Touch Bar support. Screens now also relies on OpenGL, which makes rendering insanely fast!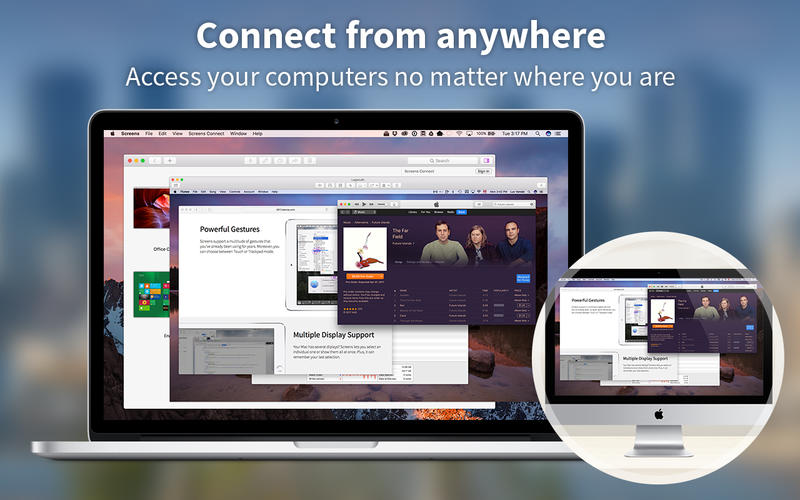 New Features
● New User Interface: Screens now includes groups, availability indicators and a more polished look without sacrificing usability.
● File Transfers: You can now transfer files through drag and drop between Macs.
● Curtain Mode: Block the remote display of the Mac you're connecting to in order to keep curious eyes away.
● Touch Bar Support: Screens Touch Bar. It is the perfect app to make great use of the Touch Bar, especially in fullscreen mode!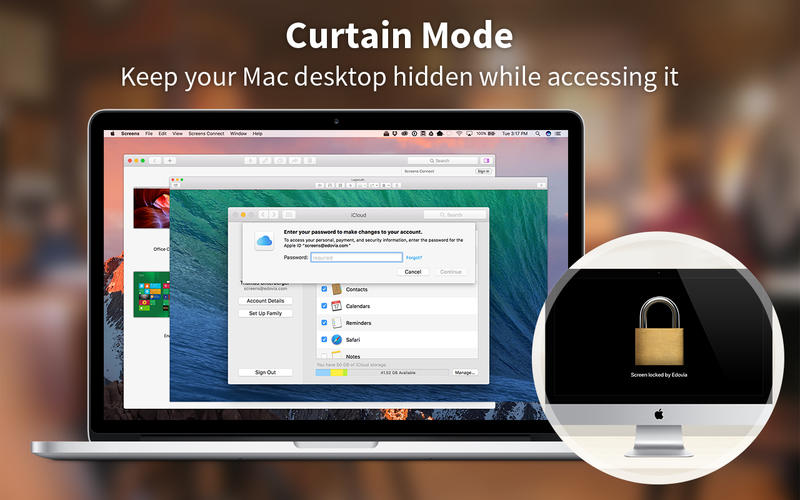 Other Features
● Tags: You can now add tags to your saved screens to improve search.
● iCloud support: Apple lifted some restrictions last year when introducing macOS 10.12 Sierra. One of them was iCloud not being available to app sold out of the Mac App Store. Screens is now sandboxed so it can access iCloud even if purchased outside the MAS.
● Momentum scrolling (Mac): Screens now sends proper mouse events to Macs. This allows us to improve scrolling. It just feels natural.
● A new OpenGL renderer (it's insanely fast!): The only thing slowing things down now with Screens 4 is your connecting quality and speed. Unless I'm mistaken, I believe this is the first time OpenGL is being used by a VNC app.
● One-click User Password: This feature was first introduced in Screens for iOS. Apple improved security quite a bit a few macOS versions ago and that resulted in seeing the login window much more often when connecting via Screen Sharing. Having to type your password almost every single time on iOS was a pain but there's no reason why this feature shouldn't be available in Screens for macOS! One-click user password is also available as a customizable shortcut and on Touch Bar.
● Improved clipboard support: There was a lot of work done in order to make sure that clipboard sharing was support like it should. We also made sure that some edge cases were taken care of.
● Improved URL scheme support: Like it's iOS counterpart, Screens for macOS now supports the RFC 2396 standard.
● Many performance improvements




Pricing and Availability:
Screens 4 for macOS is available now for $29.99 USD and requires macOS 10.11 or later. There's also a fully functional 14-day trial version available here.

Customers that purchased Screens 3 after January 31st, 2017 will receive a free upgrade! All other customers will be offered a 40% discount. Go to the upgrade page for more details.

Screens 4 is also offered on the Mac App Store. However, Apple hasn't yet provided developers with a paid upgrade mechanism.

Screens 4 is also available on Setapp.

You can purchase Screens 4 from the App Store for $29.99.

Read More