Adobe has announced a November Update of Adobe XD which brings several top requested features to the design and prototyping application.

Here's a look at what's new...

Design Specs (Beta)
We are introducing a new beta feature, Design Specs (Beta). Now, you can publish a public URL of your experience that your developer can use to inspect flows, grab measurements, and copy styles. You no longer have to spend time authoring specs to communicate positioning, text styles, or fonts to a developer. As always, we're focused on delivering features that speed up your design process and hope this feature saves you a ton of time.




Layout Grid
While Adobe XD already supported a square grid, you told us that what you really need are layout grids with columns, margins and gutters. With our new Layout Grid feature, you can now achieve a consistent, organized design and manage the proportion between elements.

You can turn them on/off using the property inspector or using the keyboards shortcut (Shift+Cmd+' on Mac and Shift+Ctrl+' on Windows) and also customise the grid's color and opacity using the color picker. The margins can be set equally (linked) or defined independently (unlinked). All attributes (number of columns, gutter and column widths, and margins) are automatically updated based on what you enter. Once the layout grid is set on an artboard, elements you create snap to it (similar to how square grid currently works).




JPG Export
To achieve your vision, you often need to share your assets in SVG, PNG, and as many of you requested, JPG format. With this release, you can quickly export artboards, elements, and images in JPG, all with the ability to adjust export quality.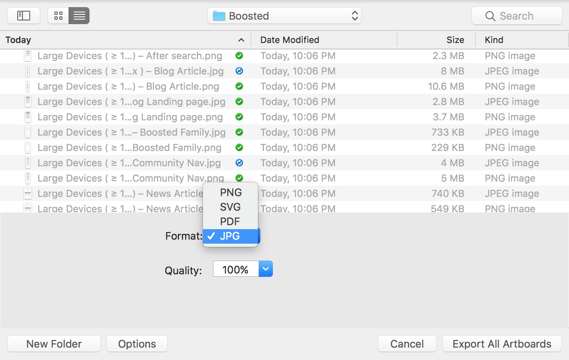 Improvements for Windows 10
With this release, you can now use two-finger touch to pan and zoom the XD canvas on Windows 10 touch-enabled devices. This works in both design and prototype mode. We hope this feature helps you to design even faster.

Additionally, your workflow may include bringing assets into XD. You can now copy and paste elements from InDesign into your design as well as import SVG files with externally linked files.

Text Enhancements
First, you can easily switch from point text (text that flows as far as text exists) to area text (text that is forced to fit into a specific area), and vice versa, with a simple click in the property inspector.




Second, you can reuse your last used text properties such as font family, size, weight, alignment, and colors on any text elements that you create. Even if you switched to another tool or prototype mode, XD remembers what you had previously selected.




Additional Improvements
● Eyedropper available inside the color picker
● Email notifications on commenting activity




Hit the link below for more details on the Adobe XD update.

Read More