The Eve app received a major update today bringing greatly improved HomeKit camera support, settings sync, revamped appearance controls, and more.

The Eve app works with all HomeKit-enabled accessories including the company's own lineup of HomeKit devices such as the Eve Light Switch, Eve Energy, and more.

See your home at a glance. Customize your ecosystem down to the finest detail. Activate scenes in a snap. And easily create automations using timers and rules. With Eve, you're at the forefront of connected home control – and guided – every step of the way.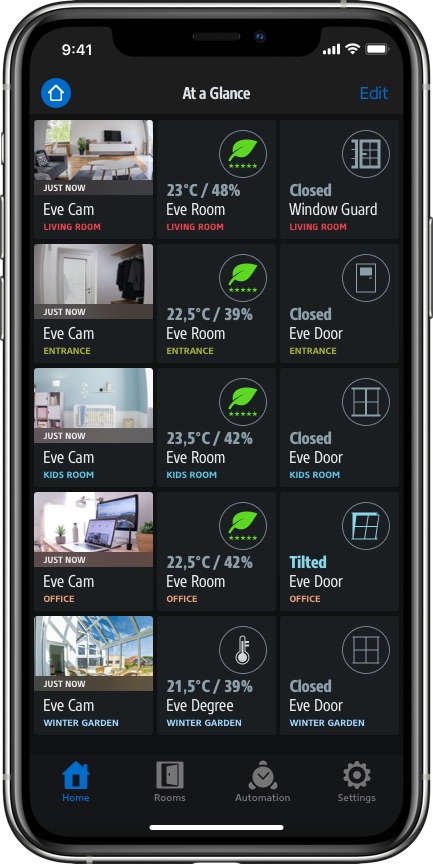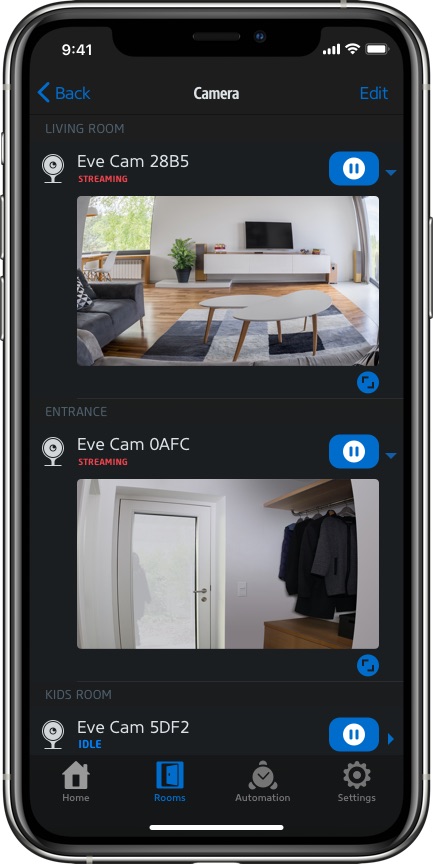 What's New In This Version:
Eve 4.2 brings you automatic sharing of Eve settings between all your iOS devices, greatly improved support for HomeKit-enabled cameras, revamped appearance controls for your Rooms and more.

— EVE SETTINGS SHARING —
Custom room images, accessory icons, sorting: with Eve, you can personalize your home down to the finest detail. With this update, Eve now securely shares your Eve settings between all your iOS devices using your personal iCloud account:
• Any iPhone or iPad using the same iCloud account will now automatically share your customization settings.
• Your At a Glance view will honor different settings for iPhone and iPad.

— CAMERA SUPPORT —
You've always been able to take a quick look at your HomeKit-enabled cameras in At a Glance, but Eve 4.2 takes support for HomeKit-enabled cameras to a whole new level:
• Cameras are now integrated in the Room they're in, including the ability to pause and resume streaming at any time from the accessory details view.
• Get an overview of all of your HomeKit-enabled cameras at once using the Types view in the Rooms tab.
• The new fullscreen view makes it easy to adjust your camera's audio settings and offers convenient push to talk functionality for supported cameras.
• As you might have guessed, we're gearing up for the release of Eve Cam - learn more about the camera built from the ground up to protect your privacy at evehome.com/eve-cam

— ROOM APPEARANCE CUSTOMIZATION —
The revamped room appearance editor makes it easier than ever to adjust your home to your liking:
• Tap Edit in any room and find the new customization options by tapping the icon next to your room's name.
• No matter whether you've picked the default image, a preset, or added your very own picture - you can now choose your room color from a unique palette based on image you've selected.

Furthermore, Eve 4.2 of course includes many other improvements and bug fixes. Enjoy!

You can download Eve for HomeKit from the App Store for free.

Download