FarFinder Accesses Files from iPhone or Browser
Posted April 11, 2008 at 12:06pm by iClarified · 6145 views
Flying Mac has released FarFinder to bring remote file access to the Macs of ordinary consumers. Once FarFinder is installed on a Mac, the user can browse and download their Mac's files using any modern web browser, anywhere on the internet. The inclusion of an iPhone-specific interface means FarFinder's reach is extended even further.

Because FarFinder is browser-based, you can access your files from any available computer, not just a Mac. And because nothing needs to be installed on the client, it's a simple as it gets. "You can get to your files at the drop of a hat - it's as easy as logging into Facebook" said Adrian Ross, FarFinder's developer. "It's so simple you'll find yourself doing it all the time." Even the URL, of the form findme.flyingmac.com/johnsmith, is easy to remember.
FarFinder doesn't suffer the usual drawbacks of a web application though. In true Web 2.0 style, FarFinder has the feel of a desktop application. Combine this with the familiar look of the Finder and the user may feel like they never left home.
The software is "install-and-forget", so your Mac is always available as long as it's switched on. This makes it perfect for downloading that important file you forgot to bring with you, but access is so easy you'll find a hundred and one other uses. Plus, the slideshow feature makes it easy to show off your photos.
The iPhone interface means you can view documents and photos wherever you are. Although the iPhone's nature means files cannot be downloaded, you can use FarFinder to email files and folders directly from your Mac to yourself or someone else with no downloading required.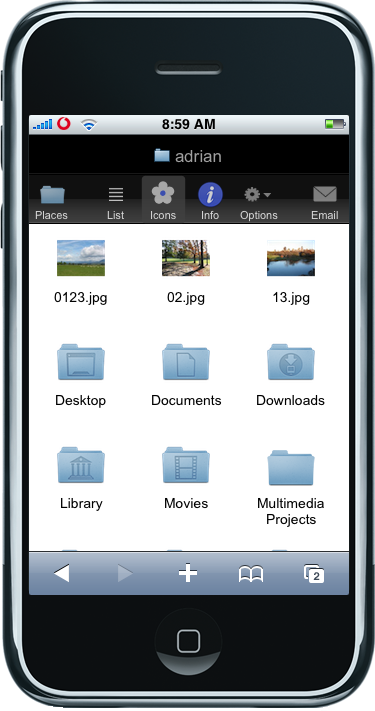 Pains have been taken to make installation as simple as possible for the non network-savvy consumer. Automatic router configuration means that often little or no action is required of the user. On the occasions where this is not possible, the user is given instructions relevant to their particular network setup.
Pricing And Availability
FarFinder 1.0 is available for download immediately from www.flyingmac.com. It comes with a fully-functional 15 day trial period, and runs on Mac OS X Tiger and Leopard. As an introductory special, a limited number of licences are available for the discounted price of $20.
Read More