Tämä opas neuvoo sinua jailbreakkaamaan iPhone 3G -puhelimen. Opas on päivitetty firmwareversiolle 2.2.1.
Opas 2G iPhonen jailbreakkaamiseen/unlockkaamiseen löytyy
täältä
(Englanniksi).
Jos sinulla on iPhone 3G, varmista että sinulla on iTunes 8.0.2 asennettuna.
Ensimmäinen vaihe
Luo työpöydällesi kansio nimeltä "Pwnage". Sinne sinun tarvitsee ladata pari asiaa: PwnageTool 2.2.5, löydät sen
täältä
tai
täältä
Tarvitset myös 2.2.1-firmwaren:
2.2.1 (3G):
iPhone1,2_2.2.1_5H11_Restore.ipsw
Paras selain IPSW-tiedoston lataamiseen on Mozilla Firefox!
Toinen vaihe
Avaa PwnageTool_2.2.5.dmg-tiedosto kaksoisnapsauttamalla sitä ja vedä PwnageTool-kuvake Pwnage-kansioon.
Käynnistä
PwnageTool
kaksoisnapsauttamalla Pwnage-kansiossa olevaa ohjelman kuvaketta..
Klikkaa Ok-nappia jos näet seuraavan varoituksen:
Kolmas vaihe
Klikkaa ohjelman yläosassa olevaa
Expert Mode
-painiketta.

Neljäs vaihe
Klikkaa iPhone 3G:n kuvaa, jolloin vihreä merkki ilmestyy sen päälle.
Viides vaihe
Klikkaa sinistä nuolta jatkaaksesi. Saavut "Browse for IPSW" -sivulle. Minulla ohjelma löysi oikean IPSW-tiedoston automaattisesti. Jos PwnageTool ei jostain syystä löydä ispw-tiedostoa, klikkaa
Browse for IPSW...
-kohtaa.
Klikkaa löytynyttä IPSW-tiedostoa, jolloin sen viereen ilmestyy vihreä merkki. Klikkaa sitten sinistä nuolta jatkaaksesi.
Kuudes vaihe
Saavut valikkoon, jossa on seitsemän vaihtoehtoa. Valitse
General
klikkaamalla sitä, klikkaa sitten jälleen sinistä nuolta.
General
-kohdassa oleva liukusäädin antaa sinun muuttaa juuriosion kokoa. Valitse kohdat "Activate the phone" ja "Disable partition wipe-out". Klikkaa sinistä nuolta jatkaaksesi.
HUOM!: Jätä
Activate the phone
-kohta valitsematta, jos puhelimesi on aktivoitu virallisen operaattorin (esim. Sonera) kortilla.
HUOM!: Voi olla että joudut kasvattamaan juuriosion kokoa hieman. Ensimmäinen yritykseni luoda ISPW-tiedostoa epäonnistui kunnes kasvatin koon noin 695 megabittiin.
Bootneuter
-asetukset eivät ole käytettävissä 3G iPhonella. Jatka klikkaamalla sinistä nuolta.
Cydia settings
-valikko antaa sinun lisätä haluamiasi ohjelmia ipsw-tiedostoon, jolloin et joudu erikseen asentamaan niitä puhelimeesi myöhemmin.
Klikkaa
Download packages
-välilehteä. Klikkaa sen jälkeen
Refresh
-nappia nähdäksesi kaikki saatavilla olevat ohjelmat. Haluamasi ohjelman kaksoisklikkaaminen lataa sen, jolloin se tulee valittavaksi
Select Packages
-välilehdelle.
Valitse haluamasi ohjelmat
Select Packages
-välilehdeltä ja klikkaa sinistä nuolta jatkaaksesi.
Custom Packages Settings
-valikosta voit valita haluatko iPhoneesi Cydian, Installerin vai molemmat. Cydia on nykyään korvannut installerin lähes kokonaan, mutta valitse varmuuden vuoksi molemmat. Klikkaa jälleen kerran sinistä nuolta jatkaaksesi.
Custom Logos Settings
-valikko antaa sinun valita haluamasi kuvan iPhonen käynnistyskuvaksi. Klikkaa
Browse
-nappia valitaksesi käynnistys- ja palautuskuvan. Jos haluat käyttää iClarified-kuvia, ne löytyvät täältä:
Käynnistyskuva
,
Palautuskuva
Muista säännöt kuvien suhteen: RGB- tai mustavalkokuva alfakanavalla, maksimikoko 320x480...
Paina sinistä nuolta jatkaaksesi.
Seitsemäs vaihe
Nyt olet valmis aloittamaan Pwnage-prosessin! Valitse
Build
-kohta klikkaamalla sitä ja aloita painamalla taas sinistä nuolta.
Kahdeksas vaihet
Sinua pyydetään tallentamaan .ispw-tiedostosi. Tallenna se työpöydällesi luomaasi Pwnage-kansioon.
IPSW-tiedostoasi rakenetaan nyt. Siinä voi kestää jopa 10 minuuttia, odota kärsivällisesti.
Sinulta pyydetään pääkäyttäjän salasanaa. Klikkaa
OK
-nappia sen annettuasi.
Kysyttäessä, onko iPhonesi jailbreakattu aiemmin, vastasimme ei (No). Se takaa perinpohjaisemman palautuksen.
Sinua pyydetään sammuttamaan laitteesi. Varmista että se on kytketty USB-porttiin.
Yhdeksäs vaihe
Ole valmiina noudattamaan ohjeita. Sinua pyydetään pitämään Koti- ja Virtapainikkeita pohjassa 10 sekunnin ajan. Sitten sinun täytyy päästää virtapainike ja pitää koti-painiketta pohjassa 10 sekunnin ajan päästäksesi DFU-tilaan.
Jos epäonnistut, saat ilmoituksen. klikkaa kyllä (Yes). Irroita iPhone USB-portista ja käynnistä se uudelleen. Kiiniitä se uudelleen USB-porttiin ja sammuta pyydettäessä.
Kun onnistut, Pwnage 2.2 näyttää ilmoituksen onnistuneesta pääsystä DFU-moodiin. iTunes näyttää myös ilmoituksen.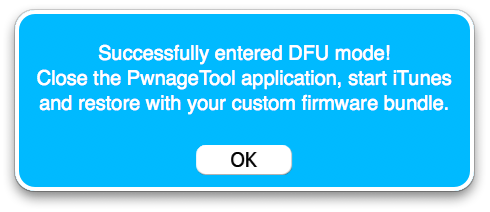 TÄRKEÄÄ!!: Jos sinulla on Mac OS X 10.5.6, sinulle voi tulla ongelmia iPhonesi laittamisessa DFU-tilaan. Helpoin tapa ratkaista ongelma, on käyttää USB-hubia iPhonen ja tietokoneen välissä. Toinen vaihtoehto on ajaa
tämä
automator-skripti (Englanniksi). HUOM!: Varmista että skripti valmistuu kokonaan. Jos tiedostoja ei ole korvattu kunnolla, näppäimistösi ja hiiresi ei tomi enää uudelleenkäynnistyksen jälkeen. Myöhemmin lisäämme kolmannen vaihtoehdon.
Kymenes vaihe
iTunesissa, pidä
Alt/Option
-nappia painettuna ja klikkaa
Palauta
-nappia.
Yhdestoista vaihe
Navigoi ilmestyvässä dialogi-ikkunassa
Pwnage
-kansioon työpöydälläsi. Valitse luomasi ISPW-tiedosto (iPhone1,2_2.2.1_5H11_Custom_Restore.ipsw) ja paina
Avaa
-nappia.
Kahdestoista vaihe
iTunes palauttaa nyt iPhonesi firmwarea. Tämäkin saattaa kestää jopa 10 minuuttia.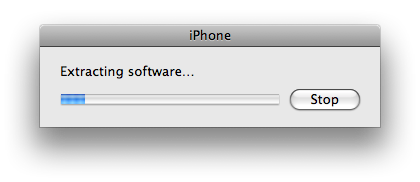 Voit valintasi mukaan palauttaa aikaisemman varmuuskopion säilyttääksesi asetuksesi ja viestisti tai ottaa iPhonen uutena käyttöön.
Kolmastoista vaihe
Kun palautus on valmis, iPhonesi käynnistyy uudelleen. Huomaa SpringBoardille ilmestyneet Cydia- ja Installer-kuvakkeet!