Google Sync Beta for iPhone!
Posted February 9, 2009 at 2:40pm by iClarified · 14202 views
Google has announced
Google Sync
Beta for the iPhone. Google Sync allows over-the-air syncing of your Gmail Contacts and Google Calendar events to your iPhone.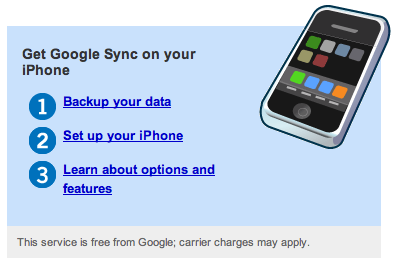 -----
One of the hardest parts about switching phones is getting your address book and calendar to your new device. We're making that process a little easier by releasing a beta version of
Google Sync
for the iPhone and Windows Mobile phones as well as a contacts-only version for phones that support SyncML.
For iPhone and Windows Mobile devices, Google Sync allows you to get your Gmail Contacts and Google Calendar events to your phone. Once you set up Sync on your phone, it will automatically begin synchronizing your address book and calendar in the background, over-the-air, so you can attend to other tasks. Sync uses push technology so any changes or additions to your calendar or contacts are reflected on your device in minutes. The connection is always on so you don't have to manually sync your phone after Sync has been set up. This means that when your colleague changes the time of the TPS report cover sheets meeting, you'll know about it right away.
Since Sync is a two-way service, you can make changes on your phone or in your Google Account. Your calendar and contacts are always up-to-date, no matter where you are or what you're doing. Also, since your data is automatically backed up to your Google Account, it's securely stored even if you lose your phone.
For devices that support the open SyncML protocol, Google Sync will allow for two-way contacts synchronization. If you're a BlackBerry user, a version of Google Sync is already available.
-----
Read More