Final Messages Before iPhone Worker Jumped
Posted July 24, 2009 at 2:42pm by iClarified · 16913 views
The final messages of Sun Danyong, a Chinese iPhone factory worker who
jumped
out of his twelfth floor apartment after losing an iPhone prototype, have been posted online.
The New Yorker has translated the messages posted in the Chinese media.
Local newspapers have published SMS messages that Sun's girlfriend says she received in the final hours before his death. The last message was received less than two hours before he died:
"My dear, I'm sorry, go back home tomorrow, something has happened to me, please don't tell my family, don't contact me, this is the first time that I have ever begged you, please agree to that! I am so sorry!"
In records of what may be his last online chat, Sun tells old college friends that he never stole the iPhone and thinks maybe someone stole it without his noticing or possibly removed it from the box after he had sent it.
Sun also implies that the security chief forcefully confined him:
"Even at a police station, the law says force must never be used, much less in a corporate office. I was just a suspect, my dear head of security, so what reason and right do you have to confine me and use force?"
His final message:
"Right now I am paying the interest on my student loan. I hope this will not affect the chances of younger people applying for loans. I am sorry for this. Bye, Gao Ge [a college friend], rest well. Thinking that I won't be bullied tomorrow, won't have to be the scapegoat, I feel much better."
Read More
[
via Gizmodo
]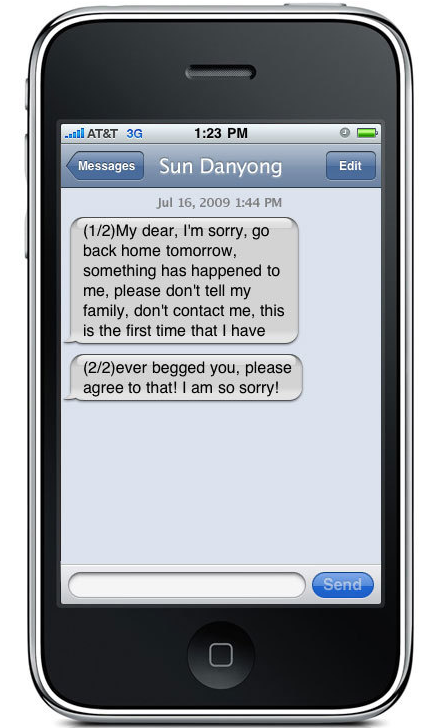 [Gizmodo]