The Apple App Store is Now Bigger Than Hollywood [Chart]
Posted January 22, 2015 at 10:02pm by iClarified · 34843 views
Apps are now a bigger than Hollywood and a bigger digital content business than music, TV programs, and movie rentals and purchases put together, according to Asymco analyst Horace Dediu.
Apple paid $10 billion to developers in 2014. Billings for apps increased 50% and cumulative developer revenues reached $25 billion. In the chart below we can see that 70% off billings are transferred directly to developers. The red area adds up to approximately $25 billion total paid to developers.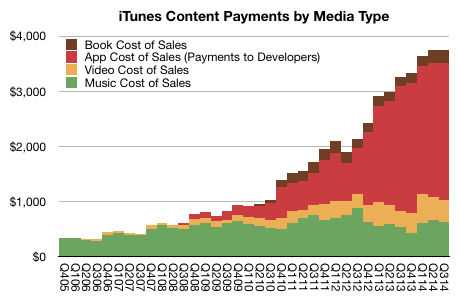 To give us some perspective on the size of the App Store, Dediu notes that developers earned more than Hollywood did from the U.S. box office in 2014.
Although the totals for Domestic (US) Box Office are not the complete Hollywood revenues picture, Apple's App Store billings is not the complete App revenue picture either. The Apps economy includes Android and ads and service businesses and custom development. Including all revenues, apps are still likely to be bigger than Hollywood.
Interestingly, Dediu also makes the argument that the app industry is also healthier than Hollywood. Some developers earn more than Hollywood stars and the median income of developers is likely higher than the median income of actors. The app economy also sustains more jobs (627,000 iOS vs. 374,000 Hollywood), is easier to enter, has wider reach, and is growing faster.
Take a look at the chart below for more details...
Read More