Twitter Announces Safety Updates, Introduces New Filtering Options, Expands Mute Feature
Posted March 1, 2017 at 4:32pm by iClarified · 8220 views
Twitter has announced new safety updates to its site and app that leverage technology to reduce abusive content.
Here's a look at the various improvements being implemented...
Leveraging our technology to reduce abusive content
We're working to identify accounts as they're engaging in abusive behavior, even if this behavior hasn't been reported to us. Then, we're taking action by limiting certain account functionality for a set amount of time, such as allowing only their followers to see their Tweets. For example, this change could come into effect if an account is repeatedly Tweeting without solicitation at non-followers or engaging in patterns of abusive behavior that is in violation of the Twitter Rules. Our platform supports the freedom to share any viewpoint, but if an account continues to repeatedly violate the Twitter Rules, we will consider taking further action.
We aim to only act on accounts when we're confident, based on our algorithms, that their behavior is abusive. Since these tools are new we will sometimes make mistakes, but know that we are actively working to improve and iterate on them everyday.
Giving you more control with additional tools
We're also introducing new filtering options for your notifications to give you more control over what you see from certain types of accounts, like those without a profile photo, unverified email addresses or phone numbers. Many people requested more filter options for their notifications, and we're excited to bring these to everyone on Twitter.
We're also expanding the mute feature to build on the work we did in November which lets you remove certain keywords, phrases, or entire conversations from your notifications. Now, you'll be able to mute from your home timeline and you can decide how long this content is muted – one day, one week, one month, or indefinitely. This was another big request from you and we're looking forward to rolling it out.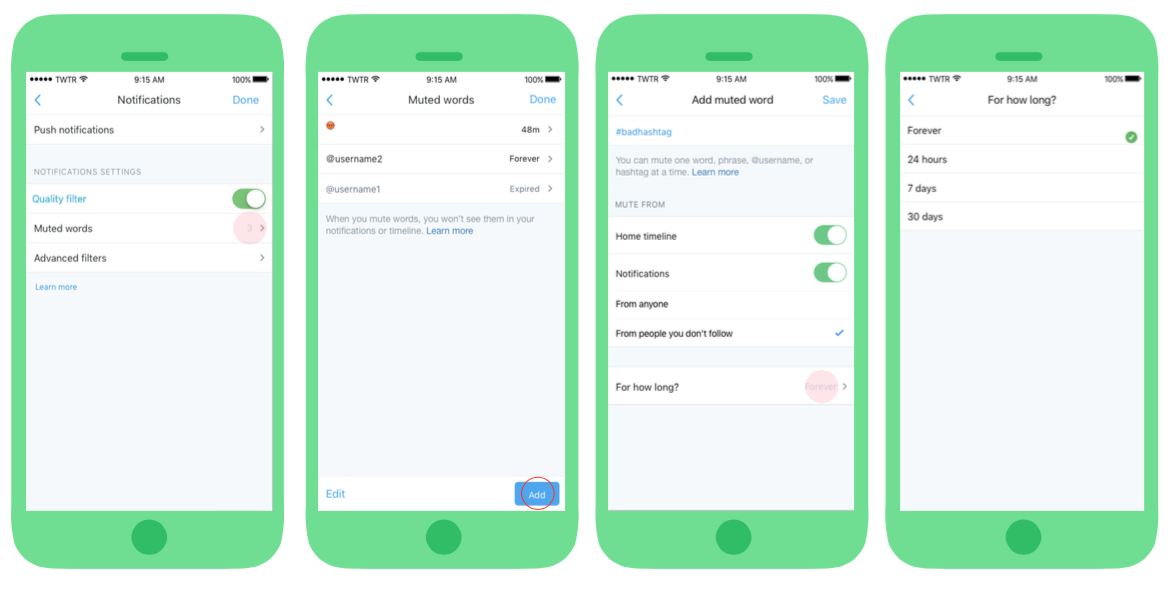 Communicating more clearly about the actions we take
We're continuing to improve the transparency and openness of our reporting process. You'll start to hear more from us about accounts or Tweets that you've reported to our support teams – both when you report harassment directed at you or another account. You will be notified when we've received your report and informed if we take further action. This will all be visible in your notifications tab on our app.
We're learning a lot as we continue our work to make Twitter safer – not just from the changes we ship but also from the mistakes we make, and of course, from feedback you share.
We appreciate your patience and support, especially as we roll out these changes globally and in every language represented on the platform in the coming days and weeks. More to come soon and in the meantime, watch for additional updates from @TwitterSafety.
You can download the Twitter app from the App Store at the link below...
Download