Plex has launched of Podcasts in beta and updated its iOS apps with new customization options.

Plex is a streaming powerhouse for all your content needs. Organize, access, and stream your media on any device, anytime, and anywhere. Now featuring customized, trusted video news from local and global publishers. There's never been a better time to cut the cord!

Podcasts:
We're excited to be launching Podcasts in beta inside Plex today on iOS, Android, Roku, and Plex Web, (more to come, of course!) and we'd like to highlight a few of the features available. Best of all, podcasts are free for all users and don't even require a Plex Media Server to be set up.




● Rich Search and Discovery: It's easy to search for a specific podcast if you know what you're looking for, or browse by genre, or see what's popular. Once you start listening and building your library, our machine learning team has built a sophisticated system which delivers personalized recommendations for new podcasts.



● Personal Podcasts: Once you've found podcasts you enjoy (and we're sure you will!) you can add them to 'My Podcasts' and your home screen. Once there, they'll act much like a show in your personal TV libraries, with features like On Deck to make podcast bingeing just as easy as that little addiction to Ice Road Truckers you have, Ben.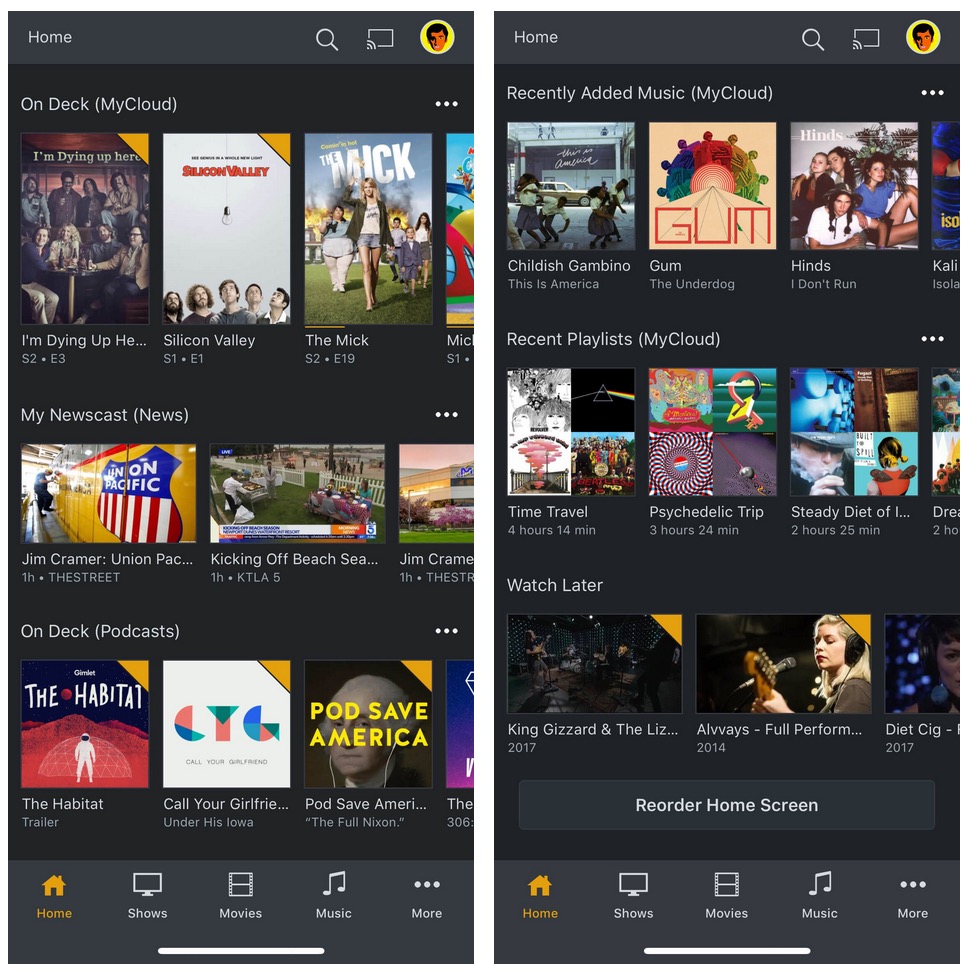 ● Enhanced Player: In order to give you the best possible listening experience, we've upgraded the players inside our mobile apps and the web app to allow for variable speed playback, as well as quickly skipping backwards or forwards.




What's New In This Version:
● Podcasts are here (no subscription required!) Search for your favorite podcasts or discover new ones through personalized recommendations. Lots more, including: 30 second skip, variable speed playback, rich discovery, and full Plex-style support for cross-device playback status including On Deck so you can pick back up where you left off on any device. Stay tuned, we've got many more features on the way!
● A new media discovery experience. Not only is this design sleeker but it adds powerful customization options like the ability to enable and disable types of content, organize navigation, and full personalization of your home screen with the ability to add content from multiple sources including your servers, shared servers, and online.
● Support changing audio streams on Live TV, when available.

Fixes:
● Camera Upload status could be confusing.
● Camera Upload was incorrectly reporting video processing as an iCloud Download.
● Fixed partially watched episode progress not showing correctly in the season view.
● Folder view sometimes crashed when scrolling to the bottom.
● Recording button in episode lists would do nothing on iPads.
● Some Live TV shows' context menu showed the wrong title.
● Trying to record all events for a sports team would result in an erroneous screen.

You can download Plex from the App Store for free.

Download