1Password, the popular password manager, has been updated with support for iOS 12.

1Password remembers all your passwords for you, and keeps them safe and secure behind the one password that only you know. 1Password: the password manager that's as beautiful and simple as it is secure. Just add your passwords and let 1Password do the rest. Sign in to websites and apps with just a few taps, and use the password generator to change your passwords and make them stronger.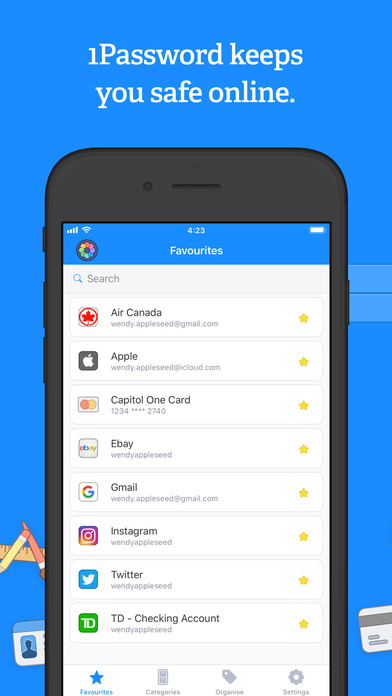 What's New In This Version:
Happy iOS 12 Day, everyone! We've been toiling away on some great enhancements to your favorite password manager, including a feature we've all been waiting for: Password AutoFill.

● Your Passwords, Right in the Keyboard
With the advent of Password AutoFill your logins from 1Password now appear right in the QuickType bar of your keyboard, meaning you can fill them into websites and apps with just a tap. Simply enable 1Password in Settings app > Passwords & Accounts > AutoFill Passwords and you'll be ready to rock. You can even create new logins with strong, unique passwords, all without having to open the main 1Password app. Not only that, if you have a 1Password membership your information will automatically be kept up to date across all your devices and computers when using Password AutoFill. It's just wonderful.

● Focus On Performance
Alongside the awesomeness of Password AutoFill, today's update includes a huge number of performance enhancements. Everything from unlocking, to loading items, to searching should now be blazing fast - even in the presence of thousands of items across many vaults.




Full Changelog
New
• 1Password is built for and requires iOS 12.
• 1Password now supports Password AutoFill on iOS 12!
• 1Password now keeps itself up to date with the information from your 1Password.com account even when it's not running, meaning your information is always on your device when you need it.
• A brand new font created specifically for 1Password and courtesy of Alan Dague-Greene is now used to display passwords and other secure information.
• Account categories and item fields are now localized. {apple-issues#2096}

Improved
• Improved the logic behind item list reloading animations. {apple-issues#277}
• Items in item lists now appear instantly when opening an item list. {apple-issues#2003}
• Clear Clipboard is automatically enabled for new users. {apple-issues#2127}
• We've updated our localizations with the latest from our wonderful translators on Crowdin.com.
• Addressed several performance bottlenecks.

Fixed
• Fixed an issue that could cause smaller than intended font sizes in secure notes.
• Fixed an issue where Watchtower alerts might not show up when viewing an item.
• Fixed several interface glitches that could potentially occur during row insertions and deletions in item lists.
• Fixed an issue that prevented the Sign In button from working when having to reauthenticate with a 1Password Account.
• Fixed a rare issue that caused the 1Password App Extension to appear to freeze when launching.

You can download 1Password from the App Store at the link below.

Download