Adobe announced today that Photoshop CC is coming to the iPad, previewing the new app for the first time.

This means you will be able to open and edit a PSD on an iPad, using the same tools you are familiar with on the desktop, and achieve the exact same results from editing operations. Then seamlessly (if you want to) open that same PSD on your desktop and keep going, or complete all your work on the iPad. This is real Photoshop on the iPad, the same underlying code and algorithms you rely on every day, with a reimagined user experience to take advantage of the uniquenesses of the device.



Adobe says anything you do on the iPad will be seamlessly synced to the desktop. No exporting, importing or converting required.

Adobe Photoshop CC on the iPad
● It shares the same code base as its desktop counterpart, so there's no compromises on power and performance or editing results.
● Creative work you do in Photoshop on the desktop you can also do on your iPad, with the exact same PSD files with the edits right where you left off. We will release a smaller set of features on the iPad first so we can ship the 1.0 version to you quickly, and gradually add the rest over time.
● When you open it, you'll find a toolbar with the core iconic tools and powerful layer system for advanced control. You'll also find selections and masking, filters, adjustments, and much more.
● But we're completely rethinking the user experience for a modern touch device. You'll find it familiar, but also adapted in smart ways for the device.
● We've designed Photoshop on iPad with natural touch gestures in mind to speed up workflows.

You can get updates on Adobe's progress toward the 1.0 release by signing up here.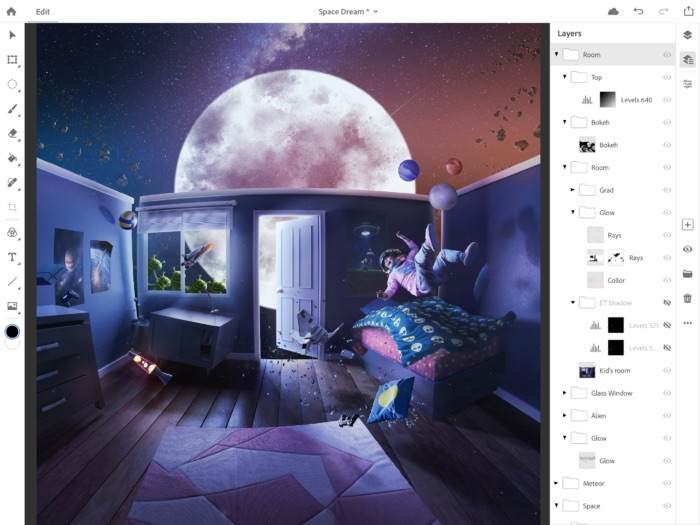 Adobe also announced updates to the Photoshop CC application including better Content-Aware Fill, a new Frame Tool, Symmetry Painting, a new Home screen, and more. Other focused applications like Dimension CC, Project Aero, and Project Gemini were updated as well.
● Dimension gives designers accessible 3D workflows. A big update (2.0) is shipping today.
● Aero gives designers the ability to create AR experiences. Preview today. Ships in the future.
● Gemini is a focused drawing and painting app for devices like the iPad. Preview today. Ships in the future.

More details at the link below!

Read More