How to Patch AppSupport for 1.1.2 iPhones (Installer)
Posted February 16, 2008 at 1:57pm by iClarified · 28460 views
These are instructions on how to patch AppSupport for 1.1.2 iPhones. This fixes Dialer Crashing and Caller ID problems. If when you try to make a call the keyboard crashes and returns you to the home screen then this is the tutorial you should follow.
This solution was created by timschuerewegen. We have only packaged it for your convenience. He deserves all the credit for it!
Currently this solution has support for the following countries:
Anguilla, Antigua and Barbuda, Argentina, Australia, Bahamas, Bahrain, Bangladesh, Barbados, Belgium, Bermuda, Brazil, Canada, Cayman Islands, Chile, China, Costa Rica, Croatia, Cyprus, Dominica, Dominican Republic, Falkland Islands (Malvinas), France, French Guiana, French Guiana (workaround for MCC 340 problem), Georgia, Germany, Greece, Grenada, Guadeloupe, Haiti, Honduras, Hong Kong, Iceland, India, Indonesia, Iran, Islamic Republic of, Ireland, Israel, Italy, Jamaica, Japan, Jordan, Kuwait, Lebanon, Macedonia, The Former Yugoslav Republic of, Malaysia, Malta, Martinique, Martinique, Mexico, Moldova, Republic of, Montenegro, Montserrat, Morocco, New Zealand, Norway, Panama, Peru, Philippines, Poland, Portugal, Qatar, Romania, Russian Federation, Saint Kitts and Nevis, Saint Lucia, Saint Vincent and The Grenadines, Saudi Arabia, Serbia, Singapore, South Africa, Spain, Sweden, Switzerland, Thailand, Trinidad and Tobago, Turkey, Turks and Caicos Islands, Ukraine, United Arab Emirates, United Kingdom, United States, Uruguay, Venezuela, Viet Nam, Virgin Islands, British
Before you start make sure you have BSD Subsystem Installed on your iPhone.
How to Install BSD Subsystem on Your iPhone
Also you will need to have added the iClarified Source if you don't have it already. To know how to do this follow this tutorial:
How to Add the iClarified Source to Installer
Step One
Launch
Installer
by pressing its icon on your SpringBoard.
Step Two
Press to select the
Install
tab at the bottom of the screen.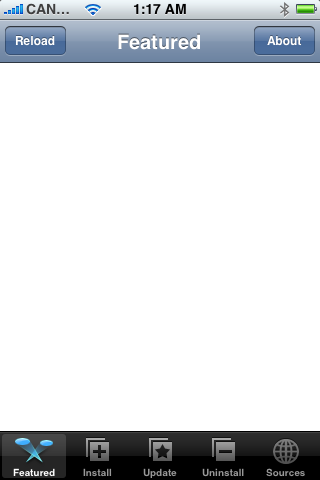 Step Three
Press to select
iClarified
from the list of Categories.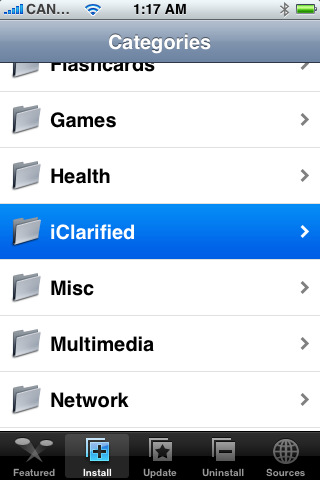 Step Four
Press to select
AppSupport Patch (1.1.2)
from the list of Packages.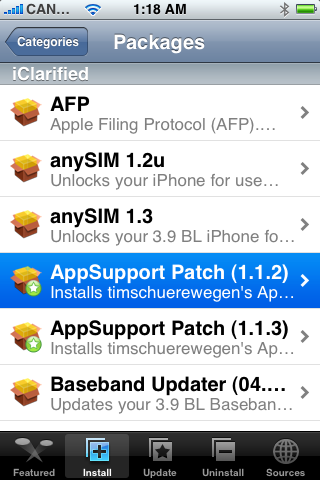 Step Five
Press to select the
Install
button at the top right of the screen.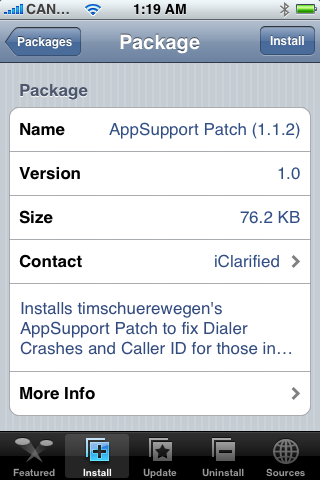 Step Six
Press the large red
Install
button to begin the installation.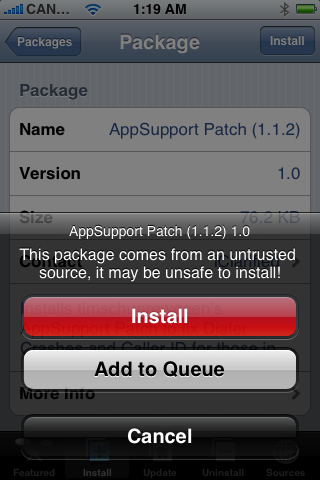 Step Seven
A Notice will appear telling you that this process will patch AppSupport and to make sure you are on the 1.1.2 firmware. Press the large
OK
button.
Step Eight
Once the install has completed a Notice will appear telling you that AppSupport is patched. Also you will have to restart your iPhone for the changes to take effect. Click the large
OK
button.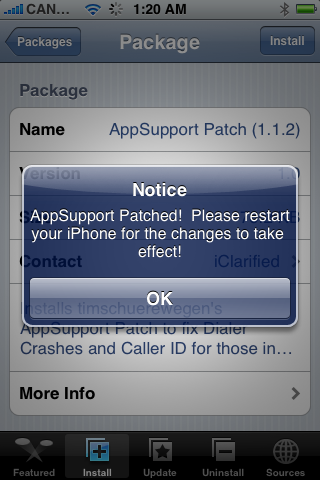 Step Nine
You will be returned to the Categories menu. Press the
Home
button to return to your springboard. Now hold down the Sleep/Wake button for 3 seconds to power off your iPhone. Drag the power slider that appears to the right.

After the iPhone turns off you may restart it and finally have use of your phone!
This solution was entirely developed by timschuerewegen. It can be customized to your country if it isn't included already. I will do a tutorial on that later. If you want to donate or to see the latest updates to his patch you can go:
here