The Halide Camera app has been updated with several new features including the ability to Rescue lost photos, flat RAW previews, reduced memory usage, and more.

Halide is a groundbreaking app for deliberate and thoughtful photography. With high-end tools, and a beautiful UI designed from scratch for the latest iPhones, Halide is your go-to camera when you want to really take a photo rather than a quick snapshot.

Features:
- Beautiful, intuitive gesture-based interface
- An intuitive and fast lens switcher designed especially for iPhone 11 Pro
- On iPhone X and later, a custom-designed UI that is completely usable with one hand
- Manual Depth Capture: Take portraits of pets and objects on iPhone XR
- Focus peaking and powerful manual focus*
- Full manual controls including shutter speed, ISO and white balance
- Live histograms for perfect exposure*
- Captures RAW, TIFF, HEIC or JPG for the best quality shots*
- Grid overlay with built-in level
- Quick-review of your last few shots
- Intelligent automatic and manual mode

Compatibility:
- The Ultra Wide camera on iPhone 11 and 11 Pro does not support RAW or manual focus.
- Histograms require iPhone 6 or later. (6, 6S, 7, 8, X, XS, XR, SE, 11, 11 Pro)
- RAW requires iPhone 6S or later. (6S, 7, 8, X, XS, XR, SE, 11, 11 Pro)
- Depth Capture requires iPhone 7 Plus, 8 Plus, X, XS, XR, 11, 11 Pro.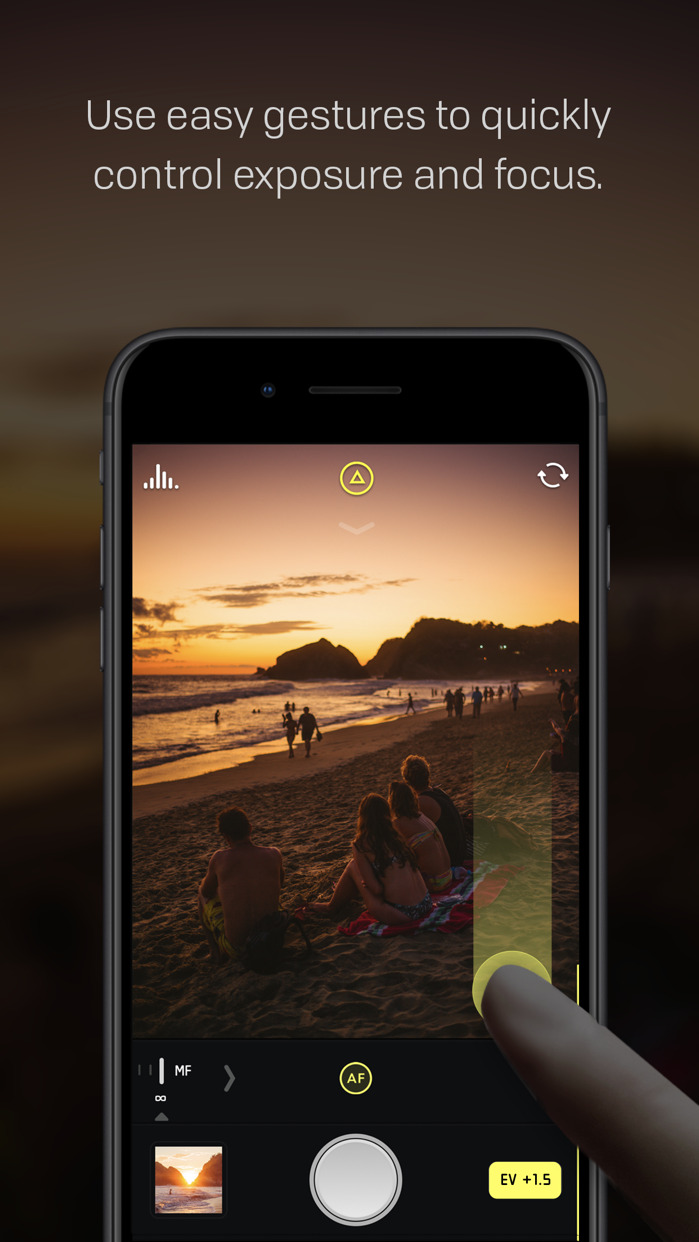 What's New In This Version:
Halide 1.16: BETTER RAW, THREE WAYS
In our first big update of 2020, we're releasing new groundwork for better RAWs, a safer shooting experience, and other little things that make your life better.

● RESCUE
Sometimes things happen outside your control, like you're shooting at 5% battery and the phone shuts down, losing a photo. Even if these things rarely happen, we want to avoid the slightest chance of losing a photo. That's why we're introducing Rescue.

After you take a photo, we now create a backup copy before save it to your photo library. We only delete that backup once we detect that photo in your library. If you think you've lost a photo, it's easy to check Rescue. Open the photo reviewer, tap the grid icon in the upper left, and then tap the life preserver icon in the upper right.

● SMART RAW IS SMARTER
Based on our research into iOS 13 metering characteristics, we've updated Smart RAW to improve highlight recovery during the data.

● FLAT RAW PREVIEWS
Unedited RAWs look a bit dull to the untrained observer. That's why iOS normally post-processes RAWs before presenting them on screen, to add contrast and liveliness. However, this will get in the way of photographers, who are more interested in seeing those unedited pixels! In this update, we render RAWs "Flat", so you can quickly judge the exposure of your photo without having to jump into an editor.

● OTHER GROUNDWORK
After taking a photo, we now throttle our system to get your pictured into your camera roll as quickly as possible. This reduces the window where bad things can happen.

We've also significantly reduced peak memory usage in depth mode. This should prevent crashes, and just make us a better iPhone citizen.

You can purchase Halide Camera from the App Store for $5.99.

Read More