Dit zijn instructies over hoe je een duplicaat van een CD of DVD kan maken aan de hand van Mac OS X Leopard's Schijfhulpprogramma.
Stap een
Start het
Schijfhulpprogramma
vanuit Programma's:Hulpprogramma's en selecteer jouw CD uit de linker lijst.

Stap twee
Klik op de
Nieuwe schijfkopie
knop om een dmg bestand van je CD of DVD te creëeren.

Stap drie
Vul een naam en een locatie in om je schijfkopie op te slaan en klik op de
Bewaar
knop.
Stap vier
Het Schijfhulpprogramma zal nu jouw nieuwe schijfkopie aan maken.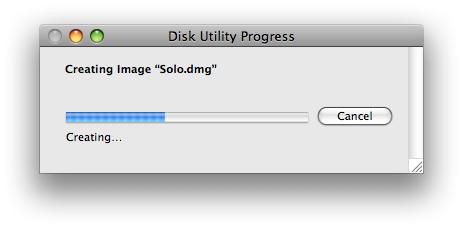 Stap vijf
Eenmaal klaar zul je opmerken dat je schijfkopie in de linker kant van het Schijfhulpprogramma zal verschijnen. (hier Solo.dmg).
Stap zes
Selecteer het dmg bestand uit de linkerzijde van het Schijfhulpprogramma en klik dan op de
Brand
knop.

Stap zeven
Je originele CD of DVD wordt uitgeworpen en het Schijfhulpprogramma zal aangeven dat het wacht op een lege CD of DVD.
Stap acht
Stop een lege CD of DVD in je computer en klik dan op de
Brand
knop.
Stap negen
Wanneer het branden klaar is word je op de hoogte gesteld dat het branden succesvol was. Klik op de
OK
knop om het proces af te maken.