SuperSync 2.4 Released
Posted May 30, 2008 at 1:16pm by iClarified · 5150 views
SuperSync today takes another step toward simplifying the process of managing iTunes libraries across multiple Macs, PCs, and iPods, with the release of SuperSync 2.4. Combining power with simplicity, SuperSync lets users visually compare, merge, and access their media files from anywhere.
SuperSync 2.4 adds a dozen new features and builds on a three-year effort to make moving content from one media library to another easy and reliable. This release includes enhanced metadata transferring, improved UI, iPod content importing, expanded media types, and new media filters.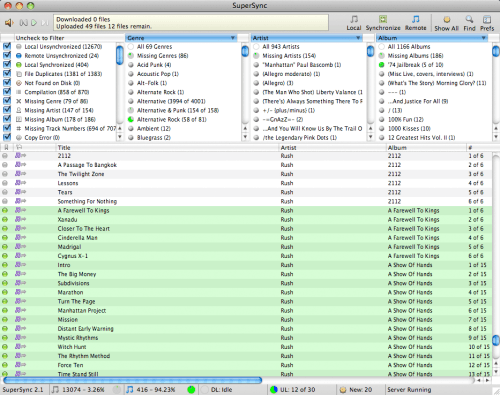 SuperSync has always been able to transfer the track information that is embedded in a music file, including genre, artist, album, and track numbers. SuperSync now adds the ability to copy any additional metadata that has been generated by the user. Example metadata includes volume adjustment, grouping, EQ settings, ratings, played counts and beats-per-minute. For movie files, metadata includes episode number, series, and video kind, such as movie, TV show, or music video. SuperSync makes it easy to move an iTunes library from one machine to another without losing vital metadata.
An advanced iPod reader was added to help download music, video, and playlist content from an iPod. SuperSync can connect to a remote library and music, as well as playlists, are instantly available. Users can select the tracks they want to copy and click the synchronize button to start the transfer. Playlists can also be selected and copied to a local iTunes library. This is especially helpful when the computer that added the songs and playlists to the iPod is no longer available.
The user interface in version 2.4 is sporting a new look. Tracks can be instantly sorted by file type or music type via the filter table. Duplicate files within the same library are flagged for quick reference. Possible duplicates are also easy to view with a single click. SuperSync uses an easy-to-read graphical representation of two libraries - where gray tracks are local, blue tracks are in the remote library, and green tracks are already synchronized.
Support for new music formats have been added to SuperSync, including .m4r (ringtones) and Ogg Vorbis.
SuperSync makes it easy to create a main library, and have a subset on computers and laptops around the house. Any new content that you've added on one computer can be instantly uploaded to the master library. SuperSync can help reduce the likelihood that two family members will accidently buy the same music download.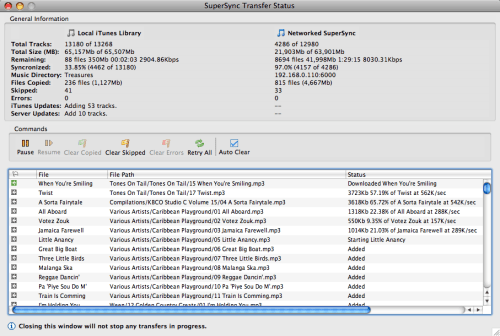 Pricing and Availability:
This update is free to all registered users and encourage all users to upgrade to the latest version. A limited demo version is available to try most of the features for a limited number of file transfers. The full registered version is available for $29 USD for 2-pak, $39 USD for 5-pak, or a best value $59 USD 10-pak. Licenses can be used for any machine (Mac OS-X or Windows) that music is stored on. A separate license is not required for iPods or to import music from a disc or hard drive. 5- and 10-pak licenses can be split among two or more people to keep the cost-per-license down.
Read More